This is part three of our series on the MLB game that will be played at Fort Bragg, NC on July 3rd
In terms of population, Fort Bragg in North Carolina is the largest military installation in the U.S. Not only is it home to the world-renown 82nd Airborne Division, its nearly 55,000 service members represent about 10% of the U.S. Army's total. When you include their families, military retirees and Department of Defense civilians, you're looking at a quarter of million people within its 500 square miles.
So when Major League Baseball wanted to honor America's military, Fort Bragg was the logical place to do it. That's why a regular-season game between the Braves and Marlins will take place there this Sunday evening, as part of the massive Fourth of July celebration on the base.
As described in the first two installments in our series on this special event, Major League Baseball and the MLB Players Association are footing the bill to build a temporary ballpark to hold this game … but that didn't mean it was easy to gain the approval to do it.
Eric Hill is the Community Recreation Division Chief for the Directorate of Family and Morale, Welfare and Recreation at Fort Bragg. Yes, titles and departments have long names in the Army. The ballgame on July 3rd falls under Hill's jurisdiction.
Hill became aware of MLB's desire to hold this game last August. At that point, quite a bit of legwork had already happened. After MLB broached the subject to the Department of Defense, it then "worked its way through the different channels and commands," according to Hill. That included the IMCOM Commanding General, the Atlantic Region Director, Fort Bragg commanding General, and the Garrison Commander "and eventually the email ended up in my in-box."
After discussions between Major League Baseball headquarters and the senior commander at Fort Bragg, "everyone saw the good in the gift. We told them we're excited about it and wanted to pursue it." Because the Army viewed the gesture as a "gift," a formal process ensued where MLB had to make the offer formally, and then have it reviewed by numerous entities within the Department of Defense, finally reaching the Acting Secretary of the Army. Then the proposed construction process had to be reviewed by Congress.
This is how the fairway of the abandoned golf course looked just before construction started in March. Photo courtesy of Populous.
If this seems like an inordinately large number of steps, Hill points out that "all of this happened in a pretty tight timeline from how we normally handle things." With the approvals and permits in hand, ground was broken March 9, which started a construction timeline that drew to a close this week. That allows the game to be played on July 3rd, "which is what (MLB) had proposed from the beginning, to tie together our nation's birthday, America's game and those who defend America."
Once work commenced, things happened smoothly and quickly. "As things were moving up for acceptance, MLB had people working on the planning and layout. When the acceptance came, they had a head start," he pointed out. "It has been extremely impressive just watching it all come together." When workers arrive on the scene to tackle some aspect of the project, "they always say they're amazed that the military is doing something like this. We're always quick to point out that it's not the military. It's Major League Baseball and the Players Association."
He added with a smile, "It's nice to see what can happen when things don't have to go to the lowest bidder."
The stadium has room for 12,500 fans, but don't start driving toward North Carolina with the expectation that you'll be able to score tickets from a scalper outside the park. For one thing, you won't be able to enter Fort Bragg. For another, the tickets are spoken for. Since only 5% of the 250,000 locals with military connections can be accommodated, there is "much more demand than supply" when it comes to seats for the game, according to Hill. The tickets were turned over to the commanders of each of the units at the installation in direct proportion to the unit's percentage of overall service personnel there. The commanders then distributed the precious tickets to the service men and women and their families "using the process that they want to use."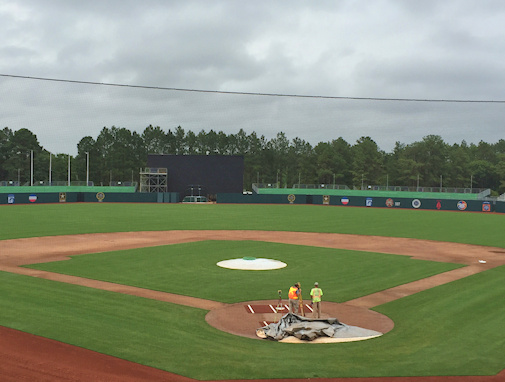 Workers were preparing the infield in this June 28 photo.
Any leftover seats were distributed in what Hill called "an online contest" to military retirees, Department of Defense civilians, National Guard members and Reservists in the area as well as any Active Duty service members who were not able to get tickets through their units. Any chance some tickets will end up on StubHub or the like? "We have language in our ticket distribution (policy) forbidding that," he said, adding that "negative action would be taken" against anyone selling their seats.
If you don't have one of those 12,500 tickets, you can watch it at home on ESPN Sunday Night Baseball.
An amazing aspect of this event is that the ballpark itself will be dismantled following the game. The stands, clubhouses, press area, lights, etc. are being erected simply so MLB and the Players Association can play this game for the service members and their families.
But there's another aspect of this "gift," and that's what will remain once the disassembly is completed. "It was always the concept (by MLB) to build the park to have the game on that field. The additional benefit to us is having that field left behind, that we can repurpose and use in our adult intramural program. The infield will be converted from grass to an all-clay infield so we'll be able to play softball and baseball on it."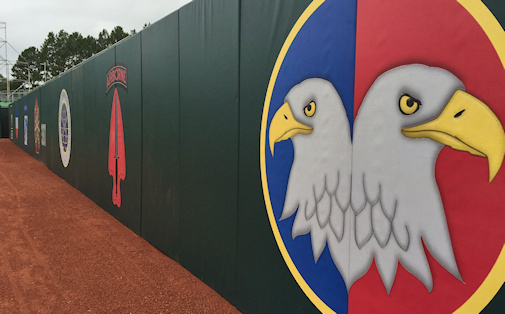 The colorful signage on the padded walls surrounding the field shows the various units at Fort Bragg.
Hill explained that there had always been a "master plan" to turn the abandoned Willow Lakes golf course on the base into a sports complex, so locating the temporary ballpark there made perfect sense. That way, the playing field that will be left after the facilities around it are removed can be the centerpiece for a larger recreational area. He noted that funding has now been approved to add three more adult fields and nine multi-use youth fields there next year.
For the service personnel, the game this Sunday evening is "an amazing opportunity to enjoy a Major League Baseball game right here in their backyard. It's created a lot of excitement that they've chosen Fort Bragg for this historic game," Hill remarked. "Everyone (here) is really pleased that MLB has recognized their service and their family members' sacrifice."
Part one of this series is here, and part two is here. Follow us on Twitter to see images of the Fort Bragg ballpark on July 3rd, as well as all games we attend. Unless otherwise indicated, photos above are courtesy of Fort Bragg Public Affairs.
---