With exhibition games about to start in Arizona, it's a good time to get you up-to-date on the biggest ballpark change in the Phoenix area.
Florida has seen a lot of dollars spent on significant upgrades at the Tigers' complex in Lakeland ($48 million) and the Yankees' facilities in Tampa ($40 million). Almost $150 million has been spent on a brand-new complex in West Palm Beach for the Astros and Nationals. Pick up a copy of the Feb. 15 USA TODAY Sports Weekly to check out my two-page article on the new complex.
In Arizona, though, the changes for 2017 are far less widespread.  As a board member of the Cactus League Association told me, "Public funding is drying up because there is no type of funding program that's active right now." That means there's fewer renovations of existing complexes and no brand-new complexes on the drawing board.
Fans of the Mariners and Padres, though, will be enjoying some great enhancements at Peoria Stadium starting this week. That's because work has just been completed on a multi-year project that cost a total of $42 million.
The final improvement — and to many fans its crown jewel — is a sparkling new video screen in left field. The high-resolution board is the largest at any of the 23 spring-training stadiums. It is  61 feet wide and 35 feet tall. If you don't have a calculator handy, that's 2,135 square feet of high-definition video.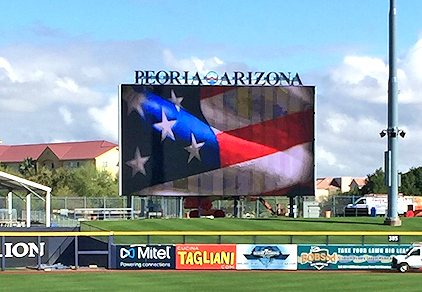 And it's a beauty. As Chris Calcaterra, the Sports Facilities Manager of Peoria Sports Complex puts it, it is so spectacular in the photo (left) "it looks superimposed, but it's not."
Another enhancement for 2017 is "an upgraded audio system with fully distributed sound that delivers clear, intelligible and powerful audio," according to Peoria's press release. The video board and sound system were both manufactured by Daktronics. Together they cost $1.3 million. "The teams procured these systems as we all three partnered in the cost," Calcaterra pointed out. "That's a true partnership."
Another new feature for 2017 is Peoria Cove. This interactive play zone features a miniature baseball diamond, a playground within the shell of a boat and a concession stand with offerings geared to the younger set. I'm glad to see this addition, because far too often, play areas are missing at spring-training parks.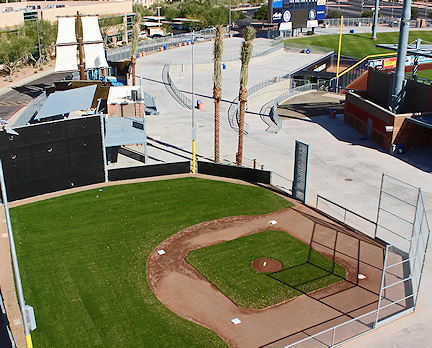 "For the last several years, we have made it our goal to continually provide the best ballpark amenities and experience for our fans," said Peoria City Manager Carl Swenson. "This year is no different. The Peoria Cove gives our young fans a fun and safe environment to enjoy while watching their favorite team play."
The first phase of improvements at the complex was completed two years ago. It involved a massive expansion of the clubhouse facilities for the two teams. The new features in the second phase, which made their debut last spring, were geared toward the fans.  They included a new, much-larger souvenir store, the replacement of seats, a lovely outdoor terrace on the upper level, new seating sections, an air-conditioned club area and a covered pavilion in left field.
Photos of the video board and kids zone are courtesy of the City of Peoria
---