PASTIGLIE PER L'EREZIONE DEVIT FORTE. Le disfunzione erettile erboristeria senza ricetta medica Devit Forte, sono pasticche efficaci e completamente naturali, a base di estratti di erbe afrodisiache che aiutano a raggiungere erezioni immediate e prolungate e a godere di relazioni sessuali frequenti e soddisfacenti. You've seen them in countless sports publications, on the MLB Network, on travel websites, on ESPN's Baseball Tonight, on The Travel Channel, and of course right here at BaseballParks.com.
We're talking about rankings of big-league ballparks.
In fact, my first writing assignment from USA TODAY was to pen a piece ranking the 30 MLB parks. This combines three of USA TODAY's very favorite things: lists; sports; rankings.
You probably think that the 30 stadiums have been ranked every possible way. Well, they hadn't — until now.
Max Schleicher works for a start-up firm in Chicago called ReviewTrackers. Max explains that the company, among other things, analyzes online reviews of products and services to assess "customer service insights." Obviously, such data would be invaluable to marketers.
"Plain and simple, I like playing around with data," Schleicher told BaseballParks.com. "Doubly so for baseball data." That's what motivated him to start looking at feedback about ballparks in ways never before attempted. He decided to use his company's computing power to run algorithms that analyzed what he calls "natural language." In other words, the algorithms scoured the Internet in search of customers' reviews of their experiences at baseball games.
"I mean to say this as modestly as possible, (but) at some point, while I was working on this project I realized that literally no one else had put together this data before," he explained. "If you go online, you'll see countless articles that rank MLB stadiums, but they don't have any way to quantify those rankings beyond something like ticket price or stadium attendance. Usually it's just a subjective 'listicle.' Once I realized that I was looking at a data source that no one had published from before, it wasn't hard to be motivated."
Did he have trouble locating online reviews from people who'd attended games? Hardly. The computers found 130,000 to sift through.
And in those 130,000 reviews, the program identified about 100,000 comments that were negative about the parks and the experience at them and about 450,000 that were positive.
"Reviews and social media data are fascinating," he continued. "If you can organize the data correctly, you have a living record of everything people are saying about a subject. With the right tools, you can analyze that subject — breaking it down to see how people feel about things like the hot dogs, beer, and atmosphere at different stadiums."
While the process of analysis is fascinating in and of itself, it's the results that are mind-boggling.
Think Wrigley and Fenway top the list of most popular parks? Not even close.
Those two "scored below average for fan sentiment. That was a shocker. When I first saw that I thought I must have done something wrong. So, I triple-checked everything and puzzled over why that could be."
Schleicher explained that he uncovered a startling contradiction — one that was very consistent: Wrigley and Fenway received five stars from an overwhelming number of reviewers, "but when they actually talked about it they weren't saying great things. They were talking about how expensive these stadiums were, problems with the bathrooms, and other issues. If you didn't know the fans were talking about Wrigley or Fenway, you'd be baffled by the fact that high-star ratings were accompanied by poor descriptions of the experience itself."
In fact, Fenway finished 21st in what he calls "fan sentiment" (that combines four key factors: the facility itself; family friendliness; food and drink; fan experience). Wrigley did even worse, coming in 25th. Despite additional research (and even consulting a professor of cognitive psychology), "the truth is I don't have a single great explanation for why these two stadiums rank lower than anyone would expect. And that is itself exciting. It suggests there's room to explore and write more about this subject in the future."
And because data was tracked over seven years, the owners of the Cubs will be happy to know that fan sentiment has a definite upward trend line for Wrigley. Perhaps the hundreds of millions of dollars in renovations at the elderly facility is having a positive effect.
Another shockingly low performer is shiny new SunTrust Park in Atlanta, which finished next to last, beating out only the pitiful Coliseum in Oakland. With every creature comfort and fan amenity known to man, how could it fare so poorly? "One thing that we know about customer-experience data is that if a restaurant, hotel, or another business messes up one part of your experience, it could sour the entire experience." He suggests that air travel is a perfect example of this. Every aspect of a flight could be flawless — but if you're late reaching your destination, you feel the entire airline is lousy.
In looking at SunTrust Park, Schleicher said that he saw "a lot of complaints about parking and a very low score overall for its facility. That means that fans are frustrated with the parking at the stadium and other parts of the stadium operations." This could sour their entire outlook about the park, even if everything else is top-shelf.
You want proof? The analysis concluded that SunTrust Park's hot dogs were the worst in the Majors. Really?
"It's a brand new ballpark, so I'd expect that to right itself quickly," he added. "It wouldn't surprise me if, next year, we look again and SunTrust has rebounded in the rankings." The front office in Atlanta certainly hopes so.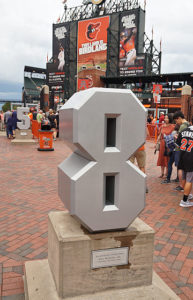 The top overall performer? Even though it's a quarter of a century old, it's Oriole Park at Camden Yards. Its overall #1 ranking came from having the most liked facility, sixth best family friendliness, sixth best fan experience and seventh best food-and-drink rank. Interestingly, Camden Yards had far and away the most reviews that mentioned one key food item: BBQ!  You have Boog's BBQ, long a staple just outside the flag court in right field, to thank for that.
Following OPACY, the top overall performers were PNC Park (#1 in both family friendliness and fan experience), AT&T Park, Safeco Field and Kauffman Stadium — which had the #2 family friendliness ranking (no surprise to me) and in a sub category, the #1 mentioned scoreboard.
Rounding out the top ten are Great American Ball Park (very surprising to me), Progressive Field (by far, the most mentions of "ice cream" in its reviews), Coors Field, Petco Park (best bathrooms!) and Citizens Bank Park.
The park with the #2 facility rank finished 11th overall:  Busch Stadium.  And just as Austin, Texas proclaims itself the Live Music Capital of the World, Cardinal partisans are 12 times more likely to refer to themselves as the "best fans in baseball" as the average MLB team.
The findings in Schleicher research are mesmerizing — partly because of the methodology used and partly because of the surprising results.
Fortunately for baseball fans, the complete report can be viewed free of charge. Warning: you'll want to spend quite a bit of time examining it. It's spellbinding.
You can find it all here:  www.reviewtrackers.com/fan-sentiment-best-baseball-stadiums/
While Max Schleicher's massive project might not settle every argument over ballparks, it shows that baseball fans have a lot to say about the parks in which the best sport is played. We owe Max a lot of gratitude for harnessing the computing power needed to hear those opinions.
---