Twenty years ago this week, I started Baseballparks.com. I didn't know that's what I was doing at the time, but the site you're looking at today had its beginnings exactly two decades ago.
Well, sort of.
It started out with my desire to show others the photos I'd taken of baseball parks over the course of my life.  At the time, I subscribed to the wildly popular America Online or AOL. It was all the rage, and the service spawned the ubiquitous phrase "you've got mail."
Imagine, you could write letters to other people without having to drop them in a mailbox or fax them — and they'd get them really quickly! Well, usually they would get them. You could even post your thoughts on AOL's topical message boards and interact in real time with like-minded folks in something called a "chat room."
It was all so high tech!!  All it took was a modem and a phone line, and after some odd squealing sounds, you could communicate with people all over the world! Well, until your connection was abruptly dropped, or someone else in the house tried to use the phone!
In an attempt to have a faster connection, I subscribed to the network service of the local cable company (they've all gone through so many name changes over the years that I couldn't tell you what it was called in 1997). They offered their subscribers the opportunity to create a "page" of content about whatever you wanted. While it was nearly impossible to format the page correctly, you could post words and pictures that others could look at. This was way beyond what AOL was offering.
Naturally, I decided I wanted to post pictures of baseball parks. Of course, the only way to convert a photograph into this crazy online world was to buy a device called a "scanner."  While I had no idea what I was doing, I started scanning my photographs into some sort of digital format and then uploading them onto my special "page." Little did I know that most other subscribers to the cable service couldn't see them, because the file sizes of my images were so stupendously large (sometimes over 100 kilobytes!!!) that they simply took forever to download on the user's computer.
No, I didn't know what I was doing.
But it was a start.
About this time, there started being talk about the "information super highway." There were rumors that you'd actually be able to communicate with people who didn't subscribe to AOL or your local cable-TV network. What? How could that happen??
While it was still a big mystery to me, I heard that you'd soon be able to buy a special "name" (that would then let you use something called a Uniform Resource Locator or URL), and after typing "www." in front of that name (and then typing ".com" after it), others could look at whatever you'd posted on your page. This was somehow possible because of this thing called the World Wide Web. Oh, that's why you typed "www" before your special name!
I found out there was only one way to purchase one of these special names, so I spent $70 buying the domain "baseballparks.com." Ballparks.com was taken, undoubtedly scooped up just days earlier.
At that time, there was an absolute stampede of people buying every possible domain name imaginable. But I was lucky and landed a fantastic domain name. No doubt, within a day or two, it would've been scarfed up.
Then the question became: What do I with it?
I went through software program after software program trying to find something I could understand that would "build" my website and, oh yeah, host it. I tried them all — from companies you've never heard of all the way to mighty Microsoft. Yes, I set up the site, and kept searching for ways to improve it. A major breakthrough happened when I was referred to Altair Technology of San Antonio in 2001. They built the site the way it should've been built — and they've been responsible for all of the major rebuilds over the years, including the nice WordPress format it has now. Thanks, Altair!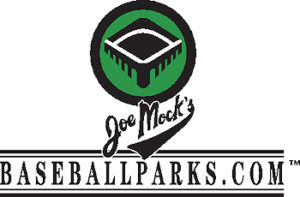 Early on, our site logo looked like this.  Also, trivia contests were extremely popular on the site … plus fans loved submitting their favorite "ballpark thrills."
And through it all, one thing was obvious: baseball fans are crazy about the venues in which their favorite game is played. And as a result, to this day, the heart of the Baseballparks site is the ever-growing collection of in-depth ballpark reviews I've written.  When a new one opens, I'm there to write about it.
Along the way, I launched a separate website to sell ballpark-related art and merchandise (and eventually folded it back into Baseballparks.com); I wrote a book; I created a separate site for college ballparks (nobody cared, so I disbanded it); I paid for the rights to update and publish a poster showing what the 30 MLB parks look like on a map of the U.S.; I freelanced articles in countless publications and websites; I started active Facebook and (especially) Twitter presences. And every one of these actions was a direct result of requests.
One idea that was all my own was to start presenting an award for Ballpark of the Year. It started in 2000, and we recently announced our 18th annual award, which went to Hartford's ground-breaking Dunkin Donuts Park. And from the beginning, it was never a "virtual" award. No, we always had a real honest-to-goodness plaque engraved so it could be presented to the team playing in the winning ballpark.
It's always made me chuckle that one year one of the many press releases I distributed to announce our award went to a certain website, and they didn't respond  … until four days later when they announced that they'd just had a great idea: they would give out an award called Ballpark of the Year! How ingenious of them.
And I have indeed encountered some scoundrels along the way. Who hasn't? One convinced me to pay him money because he was going to visit every big league park and, among other things, promote Baseballparks.com. Well, let's just say that his 30-park trek didn't last too long before something happened and, well, my money was gone and so was he.  When I ran across his name promoting some new scheme a couple of years later, I tried and tried to reach him. Funny how he seemed to disappear again.
But I've met many, many, many more wonderful people through baseball than the few scoundrels who've darkened my path. These great people have become some of my very best friends. I count this as a significant blessing.
I'm reluctant to start listing these awesome people for fear of inadvertently omitting someone, but I will mention two:  the extraordinary play-by-play man Doug Greenwald and the webmaster of BaseballPilgrimages.com, Graham Knight. To this day, the two of them comprise the Advisory Panel I rely on for matters such as which stadium should be selected as our Ballpark of the Year.
And although some of the encounters have been brief, baseball has permitted me to meet outstanding individuals (for example, Vin Scully) and experience some remarkable moments — including Game Sevens of the World Series, the Fort Bragg Game and the MLB Little League Classic. And I've been able to visit all 203 parks currently in use in the Majors, affiliated Minors and spring training.
Again, I know I'm truly blessed.
No other single individual has been more encouraging to me — and prouder of my accomplishments — than Joe F. Mock, my father. He passed away in 2009, not long after he made a trip to a baseball game with me and my son (his adoring grandson). I now wish that game would never have ended.
But I don't mean to make it sound like Baseballparks.com is coming to an end. Far from it. I've received many offers over the past 20 years to sell this domain name, but that's not going to happen.
I feel like I'm just getting started.
---