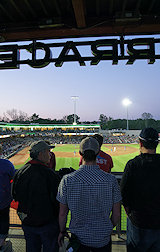 When a deal for a new ballpark couldn't be worked out between the Augusta GreenJackets and the City of Augusta, a municipality in another state beckoned. The team said yes … but when they moved, they didn't even have to leave the market where they'd operated since 1988.
But they did have to cross a river.
Read our in-depth review that recounts how the GreenJackets arrived on the northern shore of the Savannah River in a shiny, new facility called SRP Park. We were there for Opening Night in North Augusta, and our photos and interviews with the team owner, the lead architect, the City representative, the team's parent club and fans are all woven together to tell you the complete story of this impressive new ballpark.
---