Note to media outlets: click here for info on interviews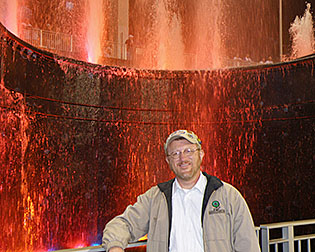 This is your happy Webmaster in front
his favorite ballpark feature in the world: the fountains at the remodeled Kauffman Stadium in KC
Three hundred and forty nine …
I am forever getting mixed up on how many different ballparks I've visited. Believe it or not, I'm asked the question often — during radio interviews, when fans come up to me at games and book signings, etc. Therefore, every once in a while, I do an "audit" of the parks I've seen
by scrutinizing the Baseball Travel Map to see where I've been and where I haven't.
I surprised myself recently when I determined that I had visited 349 different parks where Major or affiliated Minor League teams are either current or former tenants. That's a lot of pro-baseball stadiums.
This didn't happen overnight . . . although the pace of my ballpark visits quickened as the years went by (30 in 2002, 41 in 2003, 52 in 2004, 61 in 2005, 65 in 2006) … and then the totals started to decline as I had to alter my strategies a little to hit specific new parks, and not just the maximum quantity I could get to (seeing only 57 in '07, 53 in '08, 47 in'09, 43 in 2010, 52 in 2011, 53 in 2012, 42 in 2013, 50 in 2014, 45 in 2015, 51 in 2016, 60 in 2017 and 45 in 2018. In a way, I feel like I've achieved the grand total of 349 over the entire course of my life. Well, I guess I did!
Anyway, I am forever updating this number by printing out my previous list, going through all the parks that have opened and closed, and revising my listing. No matter what, it seems like the list is always behind the times. Maybe I need to slow down the pace with which I'm visiting ballparks and get a little rest.
Nahhhhh.
The entire list, by team and league, is here (it's in the form of a table, which for some reason makes it take a long time to load — so be patient). If you just want a summary, it breaks down like this:
200 — the number of current Major League and affiliated Minor League
stadiums — including Spring Training — where I've attended a game
(yes, this includes all 30 current big-league parks, plus pro games
in Mexico and Puerto Rico);
60 — the number of now-closed Major League (including spring training) and Minor League parks
where I've attended a game;
9 — the number of current Major League and Minor League parks that I've visited and photographed,
but where I did not attend a game;
80 — the number of still-existing but no longer used Major or Minor
League parks that I've visited and photographed.
In addition, I've attended games at 12 independent-league parks, so you could actually say that I've visited 361 ballparks if you wanted to. If you'd like to throw in the 41 college parks where I've seen games, then that tops 400. If you want to include college wood-bat league parks … oh, never mind. I think you get the idea!
I realize that a few fans have visited more parks than this. I envy the people who can take an entire summer off and travel the country in search of the light standards that tower above ballparks. Or the people whose job it is to watch baseball games (scouts, journalists, etc.). But I just try to wedge in a ballpark here and a ballpark there — on every business trip, on every vacation — heck, whenever and wherever I can! There is nothing that is more fun for me than seeing a game in a park where I've never been before.
Not that it's all that interesting, but here are some useless facts about me:
I always keep score when attending a baseball game — and I catalog
those scorecards for future reference (hey, they've sure helped me with
the content on this Web site!);
I take copious notes — which I call the "BASEBALLPARKS.COM Ballpark
Report Card" — in a special notebook on every ballpark I visit;
I collect a lapel pin from every park in which I see a game, and put
them on a baseball cap. Each year, I start the season with a new,
pin-less cap — and by October, my goal is to have a cap that is very
heavy with all those pins!
I never caught a foul ball during a game until it happened in Houston in 2014. When you take into account the fact that I'd attended well over 1,000 games,
you'd think it would've happened sooner. Oh, and
I've never witnessed a no hitter on any level, which frustrates me greatly;
When I started doing this, I would set a goal of how many parks I'd
see games at in the upcoming season. Believe it or not, my early goals
were simply to see ten different parks a year. Little did I know then
that this addiction would mushroom to five or six times that many. Again,
here are the parks in which I've seen
games in the past few years.
And I love to take pictures of ballparks. The photos you see around this Web site have been taken by me — unless I specifically state otherwise. And the rights are reserved on every photo here, so you cannot use them for any reason without my permission.
2001 was a particularly interesting year for me. For awhile, I devoted all of my energies to ballpark scrutinizing while I was getting everything together for my book. That's right, there was no safety net (i.e., day job) to fall back on. To gain material and photos, I hiked out a couple of times on extended jaunts photographing and chronicling the stadiums along the way.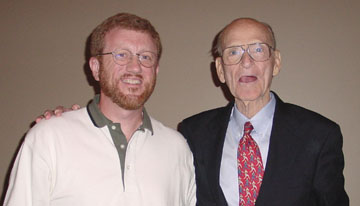 "Crash" Mock and the real-life Crash Davis
I also sought out every event that featured baseball. A favorite was the Smithsonian's tribute to the 100th anniversary of Minor League
baseball held in Washington in July of 2001. In the photo to the left, I'm seen with the real life Lawrence "Crash" Davis, on whom the movie Bull Durham was based. He was one of the speakers that evening, and was he ever a livewire! A nice bystander snapped this photo of us. I was heartbroken a month later, though, when I heard that he passed away. He is missed!! I'm quite thankful I got to meet him, though.
Another event I enjoyed — although the venue wasn't as nice as the Smithsonian — also happened during the summer of 2001. On August 9th, my quest to see games at all 30 current Major League parks was completed. That day, I saw the Twins beat the Indians at the only Major League stadium where I had yet to see a game: the Metrodome in Minneapolis. Not only was it nice to reach this goal, it was also great to see larger crowds and more noise back at the Metrodome. All it took was a winning team.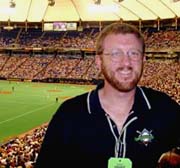 30 down and none to go
That's me in Minneapolis to the right — looking both happy to have achieved this milestone, and relieved! Since then, I've made it a point to
see games (and write in-depth reviews) at the newly opened big-league stadiums — like in Cincinnati, San Diego, Philadelphia, St. Louis, Washington, the two in New York, Target Field in Minnesota and Marlins Park in Miami — soon after their debuts.
Once I'd visited all 30 MLB stadiums in 2001, it was time to finish a book offering my observations and photos of those parks. It was released in time for the 2002 season, and it's called Joe Mock's Ballpark Guide. It's now out of print, but if you're dying to buy a copy, contact me and let me know.
Another milestone that was extremely important to me was visiting every current Major League, spring training and affiliated Minor League ballpark. Through 2016, there are 203 of them (in 2017, the Nationals and Astros will be moving into a new spring-training complex together, so the number will decrease to 202). In July of 2014, I made it to Grand Junction, CO, which was the only current park I hadn't ever seen. Now I've seen 'em all.
Along the way, I've had the good fortune to be involved in a number of other baseball endeavors. Ballpark photos I've taken have ended up in a variety of places: Strat-O-Matic baseball games; the cover of the book The San Diego Padres: A Complete History; the Baltimore World Trade Center gallery; Minor League News; the Almanac of Architecture & Design, in the new edition of Green Cathedrals, in the Ballpark Blueprint series of posters; in the Federal Reserve Bank's Region Focus magazine, and in a number of other books and mags.
In 2013, I was asked by USA Today to write quite a few articles on ballparks for their various publications.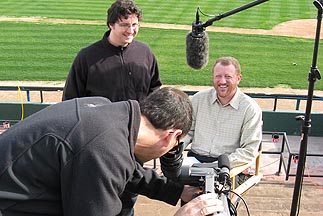 The History Channel interviewed me using San Jose's minor league ballpark as a backdrop.
One of my favorite projects was helping with the planning — and then appearing as a "ballpark expert" on camera — for a documentary that aired in 2004 on the Travel Channel. The two-part series was called Pat Sajak's Ballpark Tour, with one episode focusing on the National League and the other on, of course, the American League.
Four years later came another television project, this time for the History Channel. Producers there interviewed me for two episodes of their long-running Modern Marvels series. The first was devoted to domed sports stadiums — featuring everything you'd ever want to know about Toronto's SkyDome (and then some) — and the second to the history of the baseball park. These shows aired for the first time in March 2008.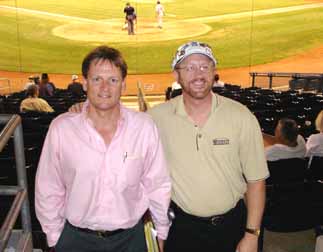 I'm sure it impressed Michael Lewis to meet
a best-selling author like me.
In addition to Crash Davis, my baseball travels have allowed me to meet some wonderful people. At KeySpan Park in Brooklyn, I ran into Bruce Adams for the first time. He and his wife Margaret are the authors of the fantastic Fodors Baseball Vacations book. At First American Bank Ballpark in Midland, TX in 2004, I got to meet the author of the best-seller Moneyball, Michael Lewis. I wish my book would've sold one tenth as well as his! He was in Midland doing research for a possible follow-up to Moneyball, which was never published.
As I hope is obvious, this Website, and all of my baseball endeavors, are indeed a labor of love. I love visiting ballparks. I love photographing ballparks. I love writing about ballparks. I love sharing my opinions about ballparks . . . meaning all of the rankings and comments in this site (unless I specifically state otherwise) are mine and mine alone.
I do hope you'll share your opinions with me. I want to know what you like and don't like about this site. And I want to know your favorite — and least favorite — ballparks . . . and why. I include thoughts from our visitors in the pages here, so please use the "write us" feature scattered around the site, or simply send an e-mail to: joemock then the "@" sign, then baseballparks.com. And when you do write, please understand that BASEBALLPARKS.COM receives hundreds of e-mails a month, and it's not always possible for me to respond personally to every one. I'd love to help you with that trivia contest you're trying to win, but I can't always do that. I'll try, but I might just be behind in responding to e-mails because I've been off photographing ballparks!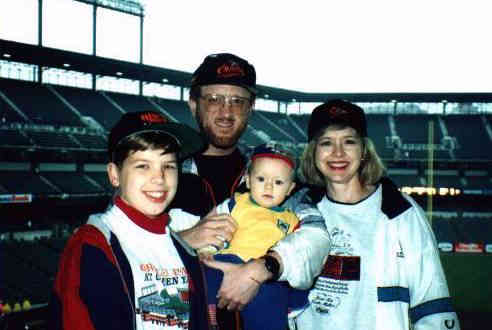 Chalk up Park #1 for the 9 month old.
And I believe in bringing up kids the right way. Before my son entered college, he'd seen games in over 90 pro parks. He's shown here in this photo just following his very first game . . . at Camden Yards in May '96. I'm the one holding the future Texas A&M Aggie.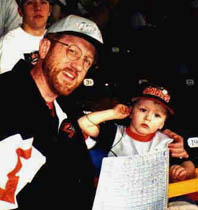 Like father, like son: sharing earplugs to
listen to the play-by-play.
And from a '98 game at Camden Yards, I've got my trusty scorecard (you can't go to a baseball game and not keep score, can you?). And to ensure that we don't miss a thing, my then-three-year-old son and I are sharing a set of earplugs so we can both listen to the play-by-play!
Thanks very much for visiting this site. I hope you enjoy your time here, and come back often!
— Joe Mock of Round Rock, Texas
Author of Joe Mock's Ballpark Guide
For interview requests or for more information on my book,
click here or call 512-826-0853.
Here are a couple of photos just to prove I'm multi-cultural.