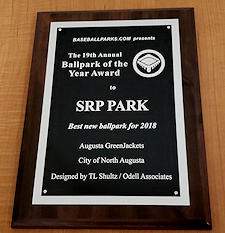 This is the 19th straight year that BaseballParks.com has presented its Ballpark of the Year Award, and the honor for 2018 goes to SRP Park, the first-year home of the Augusta GreenJackets of the Class A South Atlantic League.
Read our thoughts on the two new pro parks of 2018 here. This article also appeared in USA TODAY Sports Weekly.
Check out the press release announcing the award that went to media outlets. It provides reaction from the owner of the GreenJackets, the City Administrator for North Augusta, the designer of the ballpark and the President of Minor League Baseball.
Our original review of SRP Park is here. It was posted right after the park opened in April.
And as always, follow us on Twitter so you can see the latest ballpark news and my photos of the parks I visit throughout the season!
---