Big Story of 2006: Cards inaugurate new Busch Stadium with World Championship
After years of political wrangling, the St. Louis Cardinals finally had their new baseball-only facility. Located so close to the old Busch Stadium that part of its right field overlaps a portion of the new ballpark's left field, the team wasted no time in earning some banners to hang in their new home. After nearly blowing a large lead down the stretch, the Cards won the NL Central before besting the Padres and Mets on their way to a match with the Tigers in the World Series. Based on regular-season records, St. Louis was a heavy underdog, but as they say, games aren't played on paper. The Cardinals triumphed in five games, winning the final game (at which Stan Musial threw out the ceremonial first pitch) at their new park. In doing so, the Cards brought a championship to the city that provided them with a fancy new ballpark and the best fans in the sport.
The new Busch Stadium was thoroughly reviewed here in BASEBALLPARKS.COM soon after it opened. Check out the three-part article that features 24 photos you won't find anywhere else.
So you might think that the Cardinals' fancy stadium would easily grab our annual award for the best new ballpark. You'd be wrong, as you'll see below.
The 2006 season was a productive one for me, as I attended games in 65 different parks in pro and college ball. That beat my previous record by four. Yes, it left me tired, but with lots and lots of interesting ballpark photos to share with fans of the places where our national pastime is played.
Here now is my recap of the ballpark highlights of 2006 (don't miss the two "lowlights" at the end):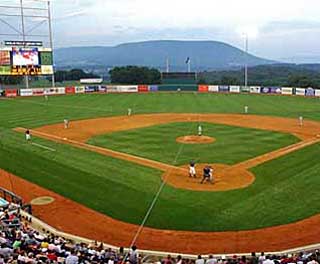 One of the spectacular new stadiums of 2006 has a long name: Medlar Field at Lubrano Park. This beauty, which features a wonderful view of Mount Nittany beyond center field, is on the campus of Penn State University in State College, PA. It is shared by the Spikes of the New York-Penn League and the university's baseball team.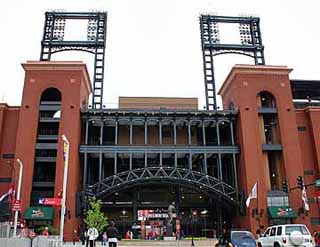 The St. Louis Cardinals really know how to throw a coming-out party! In its first season, the new Busch Stadium witnessed a division title, a National League pennant and a World Series win. The ballpark, with its impressive brick and steel exterior, received a long and positive review from BASEBALLPARKS.COM.
But the winner of the BASEBALLPARKS.COM Ballpark of the Year, given annually to that season's best new park, was West End Field in Greenville, SC. Not only did it fit perfectly into a very interesting part of town, its design offered a sense of intimacy usually absent in new baseball facilities.
By the time I rolled into Altoona, PA for the Eastern All Star Game, I'd already visited the ballparks of the other 29 franchises in Class AA ball. Well, although I didn't predict it would turn out this way, I think I saved the best ballpark in AA for last! Blair County Ballpark, with its stunning exterior and fascinating view (yes, that's an operational roller coaster just beyond right field) has an astonishing number of things going for it.
So many changes had been made to U.S. Cellular Field on Chicago's southside, that I felt it warranted a visit and a review as if it were brand new. That's exactly what I did, and I was very impressed with the changes, particularly the new roof and the upgraded outfield concourse. See my review and its 21 photos.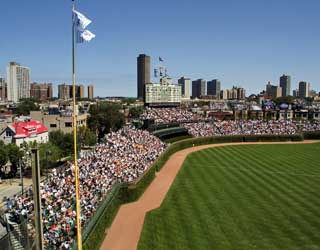 Speaking of Chicago, any season is a good season to visit Wrigley Field, so I did exactly that on a glorious day in September, 2006. The bleachers had been expanded — and still look great — and a number of other enhancements had been made. Wrigley, by the way, is the answer to the question I'm asked all the time: "What's your favorite ballpark?"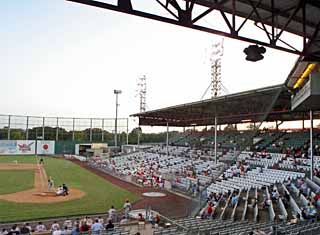 We had to say goodbye to a couple of parks in 2006, most notably Ray Winder Field in Little Rock. A shiny new park will open just on the other side of the Arkansas River in 2007, but the charm in parks from this era (it opened in 1932) is hard to replace.
2006 was a big year for announcing that new big-league parks are in the works. While construction continued on the Washington Nationals' new facility (to open in 2008), fairly concrete plans were announced for new stadiums for the Yankees, Mets, Twins and A's. The Yankees' new billion-dollar park garnered the most buzz, partly because its design is very reminiscent of the original "House That Ruth Built," which opened in 1923.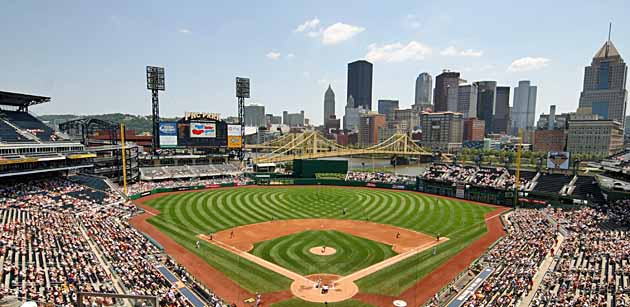 The Major League All Star Game came to Pittsburgh in 2006, and it couldn't have been played in a prettier place. I know I'll get some argument on this, but I still think that of the parks that have opened in the Majors in recent years, PNC Park is the best. I hope this shot from a day game in July helps prove this.
Between my first visit and second visit to the Great American Ball Park in Cincinnati, tremendous improvements were made (it really looked unfinished its first season). But one thing really jumped out at me when I attended a game there in 2006. Now let's see … what was the offense that Pete Rose committed that got him thrown out of baseball? Oh, that's right — gambling! So gambling and baseball don't mix, right? So why are there Ohio Lottery vending machines at the ballpark? I really can't understand what they were thinking …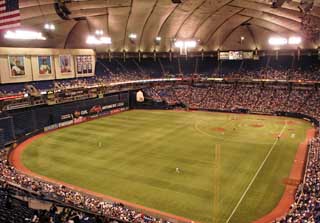 The good news is that a new baseball-only ballpark has been approved for the Twins. The bad news is that there will be three more years in one of the worst venues in the sport: the Metrodome.