Big Stories of 2010: Rickwood celebrates 100th birthday; first World Series crown comes to AT&T Park
It was a down year for new ballparks in 2010, especially compared to the bonanza of new facilities in 2009. That doesn't mean 2010 was a down year for ballpark news, though!
Here's our annual look at the ballpark stories that made news. From the first pitch at new Target Field to the last pitch of the World Series, Baseballparks.com was there to photograph and report on the events.
The year saw new Minor League parks in Tulsa, Eugene and my favorite in Winston-Salem, as well as a completely rebuilt stadium in Harrisburg. And a classic park in Alabama celebrated its 100th birthday.
In 2011, don't forget to check our home page often, as we update ballpark news daily. And if you're a Facebook member, please "like" our page there so you'll know when we post something new.
Here now is our pictorial look at The Ballpark Year In Pictures: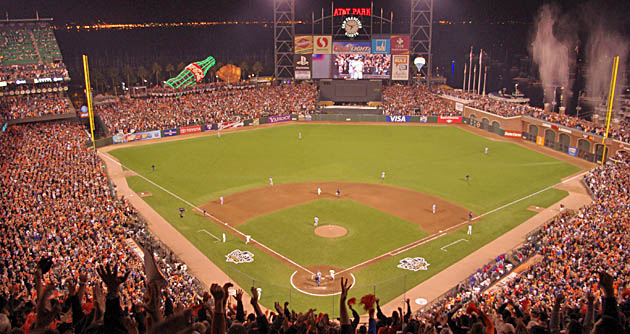 I had the good fortune to be in California as the World Series was about to start in San Francisco, so naturally I had to make my way to the Bay Area to take in the proceedings. AT&T Park was an outstanding host for Games 1 and 2, and the Giants' colorful fans did not disappoint. See my photo album for an extensive look. In the shot above, Juan Uribe had one of the biggest hits in the Series, blowing open Game 1 with a homer in the bottom of the 5th. Here he's rounding second base as the fans go wild. As you no doubt know, SF went on to win the Fall Classic in five games.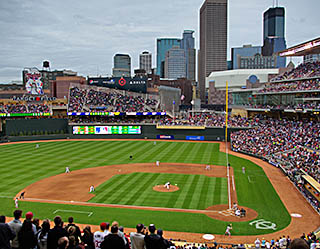 In order to review Minneapolis' new Target Field adequately, I traveled to the Twin Cities for the Twins' two exhibition games right before the beginning of the regular season. Here is the home team's very first pitch in their new digs. Check out our full review of the park here.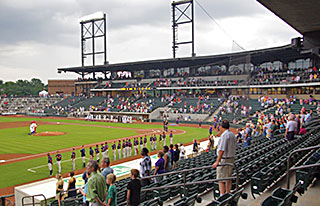 As spectacular as Target Field was, my favorite new facility of 2010 was Winston-Salem's BB&T Ballpark. Read our full review to see why it was our Ballpark of the Year.
North Carolina didn't have the only outstanding new park. Oklahoma's ONEOK Field in downtown Tulsa was also a welcome addition to the Minor League landscape. Its location was also newsworthy, as we outlined in our in-depth review of the facility.
Most of the news surrounding the city of Eugene, Oregon in 2010 was because the nation's #1 college football team plays there. But the university also opened a new baseball stadium next door to its football venue. PK Park also hosted the city's entry in the Northwest League. Read our review of the Eugene Emerald's beautiful ballpark here.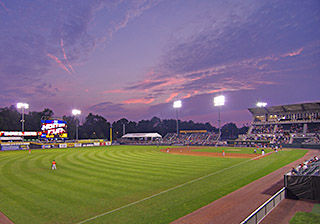 Harrisburg, PA didn't build a new ballpark, but they came pretty close! The renovations made to the Senators' stadium on City Island were so extensive that a trip to see the team play was like going to a brand-new park. Check out our review, with lots of before-and-after pictures, here.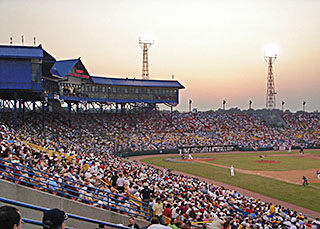 We also had to say goodbye to a couple of ballparks in 2010. Rosenblatt Stadium in Omaha, famous for hosting the College World Series, was also the home of the Omaha Royals of the PCL. Since Rosenblatt is being demolished, and the Royals weren't invited to be a tenant of the new ballpark being built downtown, they'll be moving into a new park in suburban Sarpy County in 2011.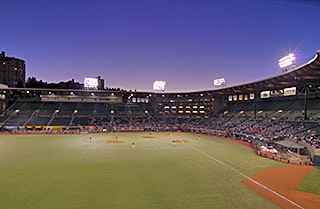 Portland's PGE Park, whose site dates back to an athletic field first constructed in 1893, isn't being turn down, but it is being forsaken by baseball. Or, more correctly, baseball is being evicted from the stadium, which is being converted into a soccer-only facility. The Portland Beavers of the PCL are moving to Tucson, and at this point, no pro baseball team will be in Portland for the foreseeable future.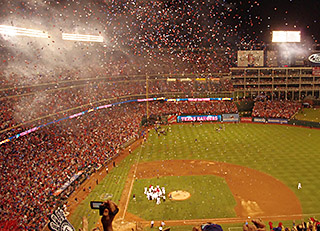 Yes, I am a fan of ballparks, but that doesn't mean I'm not a fan of a specific team. The team I love is the Rangers, and I was thrilled to be present at many big events in Arlington in 2010. No moment was bigger than this one, as fireworks and confetti filled the air seconds after the Rangers wrapped up their first American League pennant, dispatching the Yankees in Game 6 of the ALCS. Check out our photo album on the series.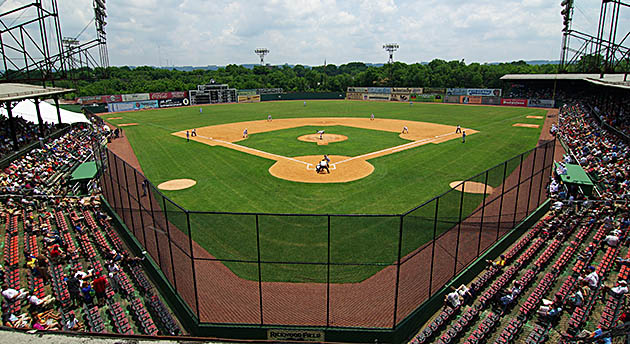 Despite the ballpark openings and postseason theatrics, perhaps my favorite ballpark moment of 2010 was in Birmingham, AL. Rickwood Field, nicknamed American's Oldest Ballpark, celebrated its 100th birthday in style. The Rickwood Classic pitted the Birmingham Barons against the Tennessee Smokies, and both squads were attired in vintage uniforms. It was a sweltering — and magical — afternoon. Check out our photo essay on the event here.
Visit our 2009 Ballpark Year In Review here.
Return to the Ballpark Essays page