Big Stories of 2011: 2nd championship for Busch; goodbye to Sun Life, Casper and Kinston; tragedies at the park
Every December, we provide a retrospective of sorts. Our "Ballpark Year in Pictures" lets you wander down Memory Lane, remembering the parks where news was made.
Like every year, 2011 was filled with highlights and lowlights — and none were higher and brighter than the Cardinals winning a thrilling seven-game World Series. Unfortunately, there was also several tragedies that occurred in or near parks during 2011.
In 2012, don't forget to check our home page often, as we update ballpark news daily. And if you're a Facebook member, please "like" our page there so you'll know when we post something new.
Here now is our pictorial look at The Ballpark Year In Pictures: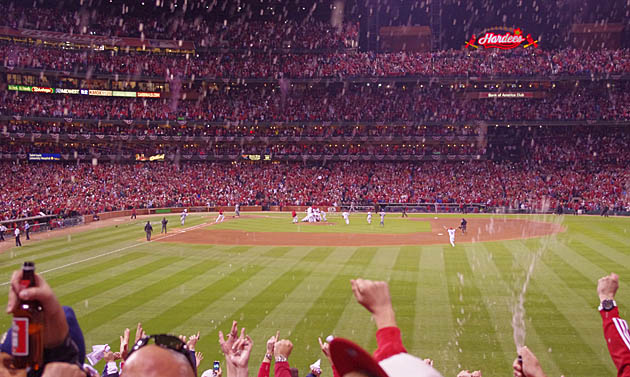 The word "delirious" doesn't come close to describing the crowd at Busch Stadium at this moment. It's one I won't soon forget either, as it seemed every fan threw his beer skyward — causing a downpour of pilsners! The Cardinals, after surviving a game for the ages the night before, complete their Game 7 triumph over the Rangers to win their second World Series in the six seasons since Busch Stadium opened.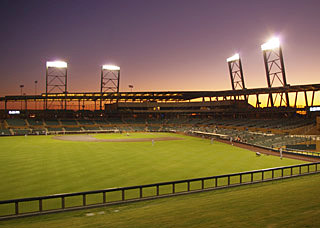 The most spectacular facility that opened in 2011 is Talking Stick at Salt River Fields. This sprawling spring-training complex near Scottsdale has at its heart this stunning ballpark (this photo is from the Arizona Fall League, which is why so few fans are in the stands). This was our Ballpark of the Year for 2011, and in my opinion, it's the finest spring-training park in the land. Read our in-depth review here.
Although not a new park, Cheney Stadium in Tacoma received a fabulous transformation when its $30 million renovation was completed this year. What an upgrade! Here's our review.
Almost any other year, this would've been our Ballpark of the Year. Too bad Salt River Fields opened in 2011! Werner Park on the outskirts of Omaha is the home of the newly renamed Omaha Storm Chasers, and the design of their park is refreshingly different. Be sure to check out our in-depth review.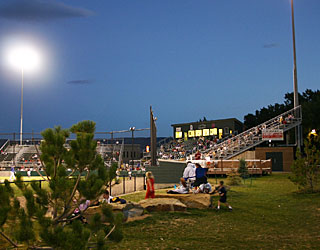 In addition to saying hello to some new facilities in 2011, we also had to say goodbye to parks that will no longer be part of the pro-baseball scene. One such place is Mike Lansing Field, home of the Casper Ghosts of the Pioneer League. The Colorado Rockies decided to move the franchise to Grand Junction, CO for 2012.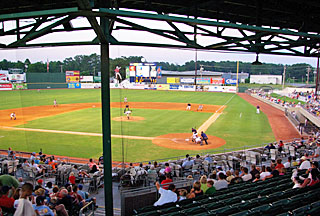 There will be a new park in the Double-A Southern League in Pensacola in 2012. Through a series of domino-like moves, the AA franchise in Zebulon, NC will move to Pensacola, and the Kinston Indians of the Carolina League will move to Zebulon. That will leave 62-year-old Grainger Stadium (left) with no Minor League tenant in 2012.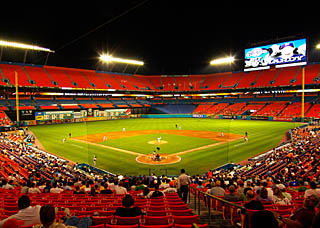 Not too many tears are being shed over the Marlins' move out of Sun Life Stadium (right). It was a pretty horrible place to watch a baseball game. The opposite will be true when the team moves into its retractable-roof stadium in April, 2012.
We also said goodbye to City of Palms Park (left) in Fort Myers, FL. The Red Sox left this congested — but pleasant — facility following 2011 spring training because they will be moving into a state-of-the-art complex southeast of Fort Myers for the spring of 2012. The City, though, is trying to lure another MLB team to play its spring exhibitions here, so City of Palms may not be vacant for long.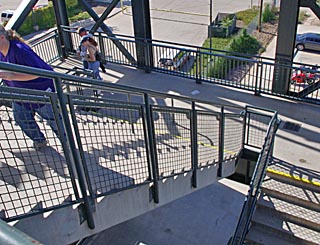 A number of tragedies occurred in or near big-league parks in 2011. The sad story of Giants fan Bryan Stow being brutally assaulted just outside Dodger Stadium on Opening Day made national news. Also, a fan fell to his death at the stairway shown to the right at Coors Field on May 24th. The fan, who witnesses said tried to slide down the railing of the stairwell, was identified as Robert Seamans.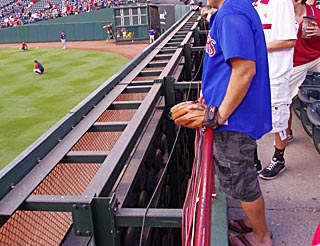 An online poll conducted by USA Today found that fans felt the low point of the 2011 baseball season was the tragic death of Shannon Stone. Indeed, a bigger tragedy has never befallen a big-league park, as Stone fell 20 feet to his death in this opening (left) at Rangers Ballpark in Arlington. Even worse was the fact that his six-year-old son Cooper was there and witnessed it all. A statue of Shannon and Cooper will be unveiled just outside the stadium during the 2012 season.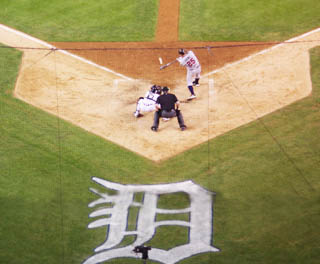 As is the case every season, individual milestones were achieved by players in parks across the country. 2011 saw Derek Jeter's 3,000th hit and Jim Thome's 600th home run. Thome's blast (it happened on this swing, right) occurred at Comerica Park on August 15th.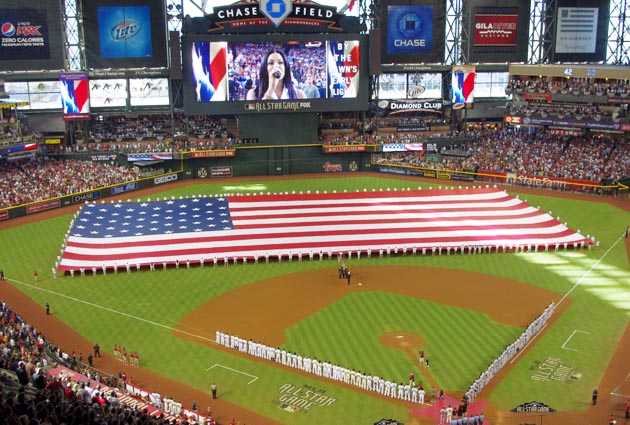 Even though the Home Run Derby and the All Star Game itself barely sold out, the City of Phoenix and Chase Field did a great job hosting the Mid-Summer Classic in July. For evidence of this, check out our photo essay on the 2011 All Star Game.
Visit our 2010 Ballpark Year In Review here.
Return to the Ballpark Essays page