by Joe Mock
All rights reserved on photos and text
Posted 1/29/18. Updated 2/17/18.
With the 2018 season within sight, it's time to look at the ballparks that will soon be appearing on the baseball scene.
Although a number of big-league parks are receiving renovations and enhancements, 2018 is a sparse year for brand-new parks in the world of pro baseball. The Augusta GreenJackets will be the only affiliated team to move into a new stadium this year, although a new club in the independent (that is, not affiliated with MLB) American Association will have a shiny new park to call home in Rosemont, Illinois. As we look ahead to 2019 and 2020, though, there is a lot of new-park activity. By the way, the next regular-season MLB park to open will be in Arlington, Texas (photo above).
So let's break this down in (roughly) chronological order, with some of our opinions mixed in about what might happen when a new park isn't a sure thing …
AUGUSTA GREENJACKETS
After 23 years in Lake Olmstead Park, this South Atlantic League franchise will be on the move. Without leaving the Augusta, Georgia market, the team will not only be in a different city, but in a completely different state.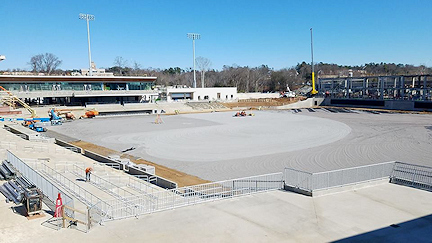 That's because the city of North Augusta, South Carolina made a play to land the franchise, and it worked. The city wanted a baseball stadium to anchor a mixed-use development on the banks of the Savannah River, and the GreenJackets accepted the offer. That development is called, naturally, Riverside Village. It will feature shopping, restaurants, office space, apartments, condos, residences for seniors and a Crowne Plaza Hotel with a conference center.
And, of course, a stadium. SRP Park, named for a local credit union, has a seating capacity of 4,782 with ten luxury suites. Odell Associates, which was involved in Charlotte's spectacular BB&T BallPark, is the architect.
"SRP Park will have a tremendous impact on the growth of our franchise," said GreenJackets GM Brandon Greene. "Adding luxury suites, a 4,000 square foot club, a video board and a wrap-around concourse will give us tools this community has never seen.  This will also give us an opportunity to operate year round."
BaseballParks.com will be on hand for the stadium's opening day, which is April 12. Watch for an in-depth review of the park shortly thereafter.
(Photo courtesy of Jeff Eiseman of the Augusta GreenJackets)
CHICAGO DOGS
An expansion team in the independent American Association will play in a new stadium in the Chicago suburb of Rosemont this season. It will be called Impact Field, as Impact Networking purchased the naming rights. The park is located along I-294, just beyond the runways of O'Hare Airport. By no means is this a modest project, either. It is costing $63 million to build and will feature 6,300 seats.
Its first game will be May 25. We'll be present for a game during its opening weekend.
ATLANTA BRAVES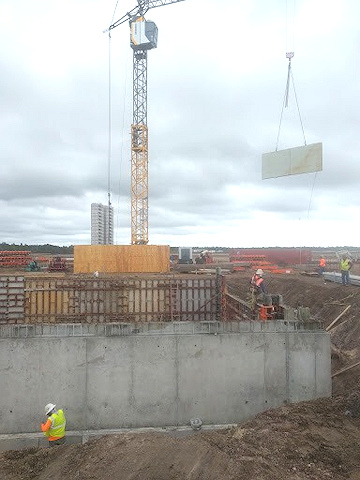 No, the Braves aren't moving out of one-year-old SunTrust Park … but construction is underway on a new spring-training facility. The original plan called for the complex to be ready in 2019, but the Braves just announced that their lease at Disney World's Wide World of Sports Complex will be extended for one more year, then they'll move their Florida operations once 2019 spring training is completed.
The new complex is in a sparsely populated area in the community of North Port in southern Sarasota County. Pendulum, on the heels of its successful design for Hartford's Dunkin' Donuts Park, is the architect for the ballpark in the $110 million project, while Fawley Bryant is designing the clubhouse and support buildings. "The thing that has always impressed me about the Braves organization is their hands-on and collaborative approach to design combined with their passion for being progressive and innovative," Jonathan Cole, principal at Pendulum, told BaseballParks.com.
He added that Atlanta's groundbreaking SunTrust Park provides a springboard for more innovation at their new spring home. "I think fans will be pleased to see that legacy continue in North Port. Plus we've taken the opportunity to borrow and embellish upon a few of SunTrust Park's features so that traveling Braves fans will always feel at home."
Even though the complex won't be open for next year's spring training, the Braves are planning to play the last exhibition game in March 2019 at the new ballpark in North Port.
(Photo courtesy of Fawley Bryant)
AMARILLO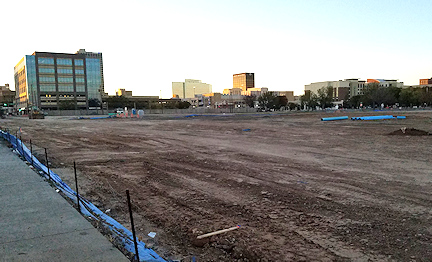 We don't know what the team nickname of the Texas League franchise will be when it begins play in a new $45.5-million park in downtown Amarillo, Texas. We do know that the franchise is currently called the Missions, and they will play one more season in San Antonio before moving to the Texas Panhandle next year.
For the past couple of months, prep work has been ongoing at the park's site (see photo). Populous is the architecture firm, with veteran Minor League designer Mike Sabatini leading the effort. He reports that the final design documents are about to be completed, and things are on schedule for construction to be finished for the beginning of the 2019 season. A groundbreaking ceremony was conducted by City leaders and the owners of the team on February 1.  The Texas League last fielded a team in Amarillo in 1982.
LAS VEGAS 51s
Cashman Field has the been the home for pro baseball in Las Vegas since 1983. To say that it is showing its age would be a huge understatement, as most observers feel it's the worst facility in Triple-A baseball.
Thankfully, a parcel of land on the western edge of the Vegas metro area has been selected to be the home for a brand-new stadium. It's a short walk from the massive casino hotel called Red Rock Resort in the area of Summerlin, Nevada. It will be adjacent to the new practice facility for the Golden Knights, the remarkably successful first-year NHL team.
We already know the name the ballpark will carry — and it's an unusual one as far as corporate-sponsorship names go. The Las Vegas Convention and Visitors Bureau agreed to spend a whopping $80 million for 20 years of the naming rights on the park — all so some corporation wouldn't plaster its name on the facility. That means the park will simply be called Las Vegas Ballpark.
The total budget for the HOK-designed stadium is above $100 million, making it one of the most expensive Minor League Baseball stadiums ever built. A groundbreaking ceremony will be held February 23, with the first game in the ballpark schedule for April 2019.
FAYETTEVILLE ASTROS
This North Carolina city will be the home for the Houston Astros' Carolina League franchise. Following two years as a temporary tenant at the ballpark at Campbell University, the team will move into a new $33-million park near the center of Fayetteville in 2019.
Site preparation is underway on the triangle-shaped parcel adjacent to the city's train station (see photo). Barton Mallow is the construction company and Populous is the architect.
"Fayetteville's new ballpark takes a community-first approach to entertainment and sports. It is designed to not only accommodate baseball games but concerts, soccer games, festivals and more," Mike Sabatini, Principal at Populous, told BaseballParks.com. "The ballpark will offer a variety of spaces for everyone, including concourse luxury suites, picnic areas, a club level and party deck for everything from weddings to corporate events. Modern technology was incorporated in the design as well so fans can stay connected and engaged."
KANNAPOLIS INTIMIDATORS
Although by no means ancient, the stadium currently used by the South Atlantic League's Kannapolis Intimidators provides little opportunity for development adjacent to it — plus it's nowhere near the town's commercial center. That's why the leaders of this North Carolina town are planning a development valued at over $300 million — complete with office space, apartments, a restaurant, shops, senior residences and, of course, a ballpark.
The ballpark is being designed by Populous, with Associate Principal Zach Allee acting as lead designer. "The best sports venues naturally fit within their community and the new Kannapolis ballpark is no exception," Allee pointed out. "The right field concourse directly connects with the new West Avenue development and streetscape, and is intended to be open to the public during the day to function as an urban park in order to further activate downtown Kannapolis."
The overall development will be built in four phases, with the ballpark being completed in time for the 2020 season.
TEXAS RANGERS
While the Tampa Bay Rays and Oakland Athletics have made lots of news regarding new parks in their markets — only to have plans stall due to problems involving sites and funding — the Texas Rangers have moved forward on a new retractable-roof stadium quite close to their current home.
Following voter approval in November of 2016, construction commenced last year on the new stadium and an adjacent entertainment district that will be complete before the ballpark. That puts both projects quite close to the home field of the NFL's Cowboys (in the background in the photo at the top of this page is AT&T Stadium).
While the architecture for the baseball facility is pretty much complete (HKS, who also designed AT&T Stadium, is the architect), one decision hasn't been reached yet: whether the playing surface will have grass or artificial turf.
When the concept of a new park was first raised in 2016, the goal was to have it ready by 2021. Since then, all phases of the planning have gone so well that the completion date has been moved up to 2020. For Ranger fans who have endured sweltering summer heat for the past couple of decades, the prospect of air-conditioned baseball games can't come soon enough.
BOISE HAWKS
Memorial Stadium in Boise, Idaho has seen its better days. And if things fall into place, the Northwest League Hawks might have to play only two more seasons in the 29-year-old park.
They want to move to a multi-purpose stadium that is likely to be built closer to downtown Boise.  For months, planning and design work has gone into a facility that would house both the Hawks and an expansion team in the United Soccer League. A possible third tenant, the baseball program at Boise State University, dropped out of the discussions last year.
The proposed site had been owned by St. Luke's Health System, but a local real estate firm just bought the 11-acre property so that the stadium could be built there.
There is a deadline in firming up the details on the facility, because the USL has decreed that Boise must have a new stadium in place in time for the 2020 season if they are going to grant a franchise to the market. That would mean that the Hawks would start playing there in June of that year, when the short-season Northwest League begins play.
MADISON, ALABAMA
It's been sad to see the way Hank Aaron Stadium has deteriorated in Mobile, Alabama. The one-time showplace is now arguably the worst park in the Southern League. Such situations encourage other markets to make a play for the team.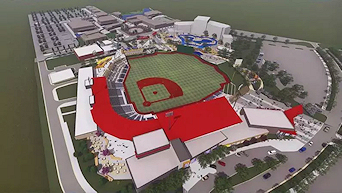 Such is the case in Madison, a suburb of Huntsville — which in turn lost its Southern League team to Biloxi, Mississippi's new park. Much like North Augusta and Kannapolis (above), Madison envisions a mixed-use development called Town Madison with a ballpark. The $46-million, 7,000-seat stadium is being designed by Populous and its tenant will indeed be the current Mobile BayBears. That's because an entity called Ballcorps, LLC completed the purchase of the BayBears in November, with the intention of moving the team. A principal at Ballcorps is also the developer of Town Madison.
On February 13, Madison city officials signed the lease, license, and management agreement with BallCorps.  The ballpark is slated to be ready for the 2020 season, so the team will have two lame-duck seasons in Mobile in 2018 and 2019.
(Rendering courtesy of Ballcorps LLC)
SAN ANTONIO
When the Elmore Sports Group announced that their Texas League franchise in San Antonio was going to move to Amarillo in 2019, they also stated that their Pacific Coast League team in Colorado Springs would move to the Alamo City at the same time. That was dependent, though, on San Antonio doing what Amarillo was prepared to do: build a new baseball stadium.
Building a Triple-A facility in San Antonio would cost quite a bit more than the $45.5 million being spent in Amarillo. Consequently, city officials have been quite cool to the idea of building a ballpark.
In my opinion, Nelson Wolff Stadium in San Antonio is barely adequate for the Double-A baseball it's hosting now. Without a complete rebuilding — which neither Elmore nor the city are interested in — it would be nothing more than a very temporary stop for a Triple-A team. That puts the future of pro baseball in this immense market in doubt.
Consequently, it's very likely that a deal for a new baseball stadium — one much closer to downtown than Nelson Wolff — could come together quickly at some point. Elmore certainly wouldn't want to abandon the market, and the City wouldn't want to be viewed as hostile to pro baseball. Therein is part of the problem, though, because there is some strong sentiment within SA that the market could support Major League Baseball, and if a park is built for a Minor League team it could prevent MLB from coming to town. This thinking is reminiscent of Buffalo and Charlotte in the 1990s, when they clamored for an MLB expansion franchise. They both designed their Triple-A stadiums to be expandable should a big-league team come their way. Perhaps San Antonio should make note of the fact that those two Triple-A cities are still waiting for Major League Baseball and are quite content with the International League.
WICHITA, KANSAS
This city of about 400,000 saw its Texas League team depart to a new park in Springfield, Arkansas following the 2007 season. The reason was that Lawrence-Dumont Stadium in Wichita was woefully behind the times. In fact, that park was constructed during the Great Depression in the 1930s. City leaders have finally awakened to the fact that affiliated pro ball will never return without a brand-new ballpark — so one is in the works on a spot close to Lawrence-Dumont (see photo).
No team in affiliated ball has announced that it will move into the park, which is projected to be completed in 2020. However, in December the city's mayor said that within a few months, there should be an announcement that an affiliated team is coming to town.  One has to wonder if that team is the Triple-A club currently in Colorado Springs, which could bounce from Colorado to Texas all the way to Kansas if San Antonio refuses to build that new park that the Elmore Sports Group wants. This notion is all the more intriguing since Wichita was in the running to convince Elmore to bring the Missions to the new stadium the city wants to build. Maybe after Amarillo won that battle, Wichita kept the conversations going with Elmore.
PAWTUCKET RED SOX
January has been a month of ups and downs for the Pawtucket Red Sox and their hopes for a new ballpark to replace aging McCoy Stadium. Buoyed by support from the governor of Rhode Island, the state Senate passed a measure that would approve roughly half of the funding needed to build an $80 million park near downtown Pawtucket. However, the bill also needs to pass the state's House of Representatives. On January 22nd, the speaker of the House, Nicholas Mattiello, announced that the deal was "dead."
While that's decidedly bad news for baseball fans in Pawtucket, it's great news for Worchester, Massachusetts. Investors there have mounted a drive to build a new stadium to lure the Paw Sox to their town.
But just because one politician says a bill is dead doesn't mean that it's, well, dead. It appears the team would prefer to stay in its current market, so it is continuing to lobby for governmental approval for the funds necessary to build a new park in Pawtucket — although any bill that is brought before the Rhode Island House will undoubtedly call for less public money than was OKed by the Senate.
By the way … it should be noted that the tenants of the two worst stadiums in Major League Baseball — the Rays and A's — are still desperate for new parks. They will both get them eventually!