Article by Kurt Smith, author of the Ballpark E-Guide series. Photos are provided by Brian Moore. All rights reserved
If you visited ten different baseball venues a season…which is usually enough to impress most fans…it would take you half a century to visit as many as Brian Moore has.
Or you could visit 25 per year, which would be truly remarkable. Then it would only take you 20 years.
This summer, Brian Moore visited his 500th ballpark. That's major league, minor league, college, spring training, etc. And, oh yes, international.
Thanks to favorable weather on the other side of the world, his 500th ballpark was in Taiwan — the Pingtung Baseball Stadium (photo above), to be exact. That's just one of 20 countries where Moore has experienced the national pastime. Others include Japan, Germany, Austria, the Czech Republic, Mexico, Panama and Colombia.
Why does he love live baseball so much? Moore's answer makes perfect sense to any regular visitor of Joe Mock's BaseballParks.com website.
"I'm not sure, really."
He can elaborate further, but it's still relatively simple. "I think the main thing is the rhythm of the game, just the flow, the in and out between innings, the pop of the mitt on warm-up pitches, watching a pre-game infield. I also like the laid back feel of baseball. At a ball game I can hopefully be off by myself somewhere, reading a book between pitches no less.
"The biggest thing, though, is the crack of the bat. It never gets old. I love a no-doubter. They are fun on TV, but nothing beats a no doubter at the ballpark."
He says that he gets the most excited by a "new field and new teams, because I feel like a collector of those things. I just get pure joy of tracking down and adding a new ballpark."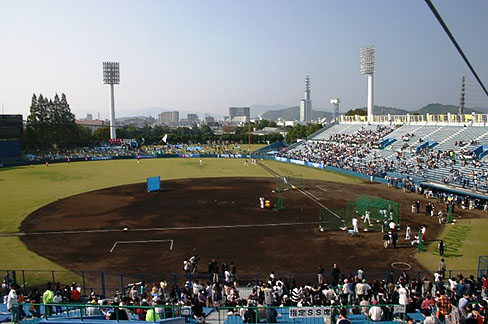 Kusanagi Stadium in Shizuoka, Japan
Nothing about the nationally famous millionaire whose curveball is only slightly better than the college kid's. Nothing about the 50-foot video board showing a hotly contested vegetable race. Nothing about the luxurious carpeting in the members-only club. Like any real fan, Moore remembers what the business of baseball sometimes seems to forget…that baseball can sell just fine on its own.
That's why Moore's advice to fans who would like to do what he does is to remember that the game is great anywhere. Don't be a ballpark snob, he says. There are great ballparks at every level of baseball, and all over the planet. If you don't just focus on Major League parks, you can visit two in a day, as Moore often does.
At every level, Moore has his favorites.
"Had my Angels lost the World Series to the Giants (in 2002), I wouldn't consider AT&T Park for my favorite big league park. But I love San Francisco. I love the cold, I love the Bay, and that ballpark and its setting are just hard to beat. So it's probably my favorite. If I can pick two, I'd have to add Kauffman (Kansas City). I love the waterfalls and the big crown, and I love BBQ!"
Below the Majors? "My favorite Minor League park — and there are so many to choose from — is probably McCormick Field in Asheville. Intimate setting, old. I also love Doubleday Field in Cooperstown. Calfee Park in Pulaski, Virginia. I'm certainly partial to the old and wooden. I'm in love with Burlington (Vermont) and my first game at Centennial Field is still the only time I've seen a team give away leftover hot dogs as you left. And I really love the setting of Campbell's Field in Camden, New Jersey.
The comfortable seats in the Invoice Seibu Dome
"My favorite spring training field is Maryvale Baseball Park (Phoenix, spring training home of the Brewers). The neighborhood is sketchy, but I've always loved the color scheme, the outfield wall, and the typically light crowds."
Watch Brian's eyes light up when you ask him about his favorite ballparks abroad. "As for international stadiums, I love the Seibu Invoice Dome where the Seibu Lions play. It's a weird semi-dome that was so unbelievably hot and humid. As far as stadiums go, it's my favorite. Kusanagi Stadium in Japan was neat. Made a special trip out there for the last Pacific League All-Star game. Babe Ruth played there back in the day. And I just loved being in the middle of a field in the middle of nowhere (in) Luxembourg to see a game. There was no reason to be there other than being an addict to collecting stadiums."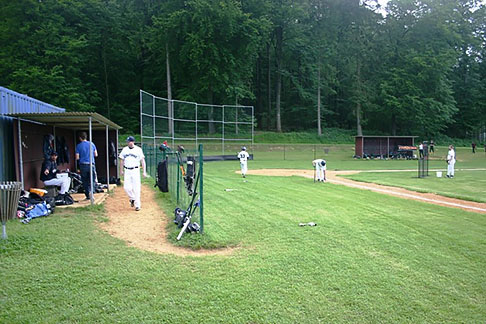 The ballfield in Beckerich, Luxembourg
What's the best thing he's ever eaten at a ballpark? Surprisingly, it's not a Citi Field Shackburger or a Wrigley Field Smokie. "Hands down, the best thing is my beloved Kasekrainer sausage. It's a cheese filled sausage in Austria. I crave them all year until I can get back and eat them nonstop. I devoured them while at Athletics Ballpark in Attnang-Puchheim, Austria."
He added, "they also serve your beer to you in the big famous glasses, not plastic cups. You have to return them though of course! Good schnitzel there, too."
A world-traveling fan can tell you about subtle differences in the fan experience abroad. Japanese fans, according to Moore, cheer "only when their team is batting, even with the tying runs on base and two outs in the ninth, you'll mainly hear batting teams cheering. They don't rise up and cheer for that last out."
But in Latin America, "it's constant loudness. Air horns and cheering and dancing sexy women. They are gambling on every inning. The people are walking through the stands selling the game pieces, and they drink beer — lots and lots of beer that's cheap to us." European fans are still picking up on the game, he says. "I feel that most that are there are just trying to figure it out. The knowledge of the game isn't quite there, so they don't pick up big moments in a game yet."
"Japan doesn't play the long ball like in the states. Most of their catchers have batting averages way below .200 (because) it's about the defense. They will always cut the ball off from the outfield. Lots of bunts. But the bat flips and the singing make it awesome.
"In Latin America, it is about curveballs. The games take forever down there because they throw so so so many pitches. Everything just moves slower. There is no hurry to get everybody in and out of there in two-and-a-half hours.
"It's baseball. It's pretty similar wherever you go," Moore says.
The incomparable Kasekrainer sausage
Dedicated baseball fandom is everywhere, but its most devoted fans are almost part of an unspoken fraternity. Moore shares a story of how small the baseball world really can be.
"In 2011, I flew back to Cologne, Germany from Salzburg, Austria, after showing up to watch a low-level European (baseball) Cup qualifier, and I immediately jumped a train out to Solingen, Germany to add a new ballpark and see a scorekeeper friend. I knew about five people in Germany at the time. Out of nowhere I hear, 'Brian?'
"I look over and see a German umpire with whom I'd worked the 2009 World Cup in the Czech Republic. He had no idea I was in Europe or would be at a ball game. So we chatted.
"The following year I was back in Cologne. I hopped a train to Bonn to see a German Bundesliga doubleheader. The first thing I do is take pictures for my Facebook page (World Wide Baseball Stadiums). I've got my face in my camera when all of the sudden I hear, 'Brian?' It was the same umpire friend, again there just to watch, not umpire the game, and of course a good distance from the park where he'd seen me the previous year. He was floored!
"In 2013, I was back in Cologne taking my German exchange family and their son to their first game. I pay for the tickets and walk into the park. I start taking pictures, and you know what I hear? This time he was the home plate umpire. None of it was planned!"
Moore meets all kinds of fans in his travels, and he even bafflingly says that "I know there are people that do way more than I do."
"But I feel like I do pretty well, and have lucked into some good stuff, for somebody who has a full time job as a police officer."
Oh yeah, that was the next question. How does one pay for all of this? On a police officer's salary? Or a writer's? Or a software analyst's?
"Well, I work a lot of overtime, and I don't do much else. I buy the cheap seats, and a lot of the high school and college games are free or cheap. As for the trips, I have credit card bills, but I don't have kids, and as my uncle, who I was very close to, often said, 'You're a long time dead.' So I don't save up much.
"I really work at looking for deals. I have family in Europe so all those trips I'm usually staying a week or more for free somewhere. I've run it down dangerously low before, but I've realized I have to work more overtime to pay for it. Plus my position as an International scorekeeper for the World Baseball Softball Confederation allows for all-expense-paid trips to new locations and that helps, too."
In other words, it can be done. Just work overtime.
Asked what his ultimate goal is after 500, Moore had an interesting answer: "To see a game on every day of the calendar year. I am missing December 24th, 27th and 31st. The 24th will be very hard to find a game because the Latin countries don't play on that day.
"And to see it in every country where it is played. That includes Uganda, Kenya, Iran, Pakistan, Moldova, etc."
Might he actually set his sights on 1,000 ballparks?
Moore's answer to that question alone should put him in a Hall of Fame of some kind.
"I would say 1,000 is the next goal, not necessarily the ultimate goal."