An edited version of this article appeared in the USA TODAY Spring Training Preview, published on Feb. 14, 2018. Many thanks to the editorial staff for permitting us to reproduce the unabridged version here. All photos shown here are by Joe Mock. All rights reserved.
By Joe Mock
Special to USA TODAY
SURPRISE, ARIZONA   The emerging field of "data mining" is providing much-needed information to the manufacturers and marketers of consumer products. By using sophisticated algorithms, computers can sift through countless online comments by actual users of the product, thereby painting a vivid picture of how consumers feel about it.
It's only natural to apply this process to sports.
At the request of USA TODAY Sports, ReviewTrackers conducted a study of over 36,000 online reviews of the 23 spring training ballparks. The firm then analyzed 130,000 key words utilized in these reviews. They called the study The Voice of the Fan, and it provides a fascinating look at how baseball fans feel about the ballparks used for exhibition games.
To create a score for each spring training stadium, ReviewTrackers examined how fans felt about four aspects of their visits: the facility; family friendliness; food; and the fan experience. Among the ten parks in Arizona, the winner is a surprise.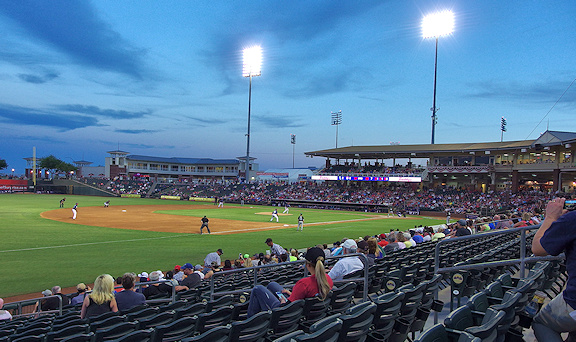 That's because Surprise Stadium (photo above), spring home of the Texas Rangers and Kansas City Royals, generated the highest overall score of the ten Cactus League venues, finishing first in family friendliness. The park also topped all 23 spring parks (Arizona and Florida combined) in the facility and fan-experience categories.
"Our park is very intimate, so every seat is a good seat," says Kendra Pettis, Sports and Tourism Director for the City of Surprise. "The Royals and Rangers allow incredible access, offering fans a variety of opportunities for interactions with their favorite players."
When the complex was being designed prior to its 2003 opening, the goal was to "cater to the needs of citizens and fans while operating as a first-class training facility for building champions," said David Bower, Principal at the architecture firm Populous. "Fifteen years later, Surprise Stadium still shines as a prime example of a community and professional sports-focused venue."
The City has invested $23 million on upgrades to the complex in the past three years, including renovated clubhouses, playing-surface improvements, new stadium seats and extended netting to protect fans from foul balls.
A new concession item for 2018 is the High Heat Dog, which features Siracha-infused ketchup, Caribe-pepper mustard and jalapeno relish. Two local breweries quench the thirst of the fans, offering such micro brews as Four Peaks' Hop Knot and State 48 Brewery's Hefeweizen and Lost Dutchman Golden Ale. Notes Max Schleicher of ReviewTrackers, "More and more big-league teams are building craft beer areas, so it only makes sense that this trend would filter down to spring training."
Finishing second in the ranking of Cactus League parks is Peoria Stadium, the spring home for the Seattle Mariners and San Diego Padres since 1994. It finished second among Arizona parks in all four categories of the study.
"Being recognized as a favorite ballpark is exactly what we strive for," Peoria Mayor Cathy Carlat told USA TODAY Sports. "As we celebrate our 25th season, our desire to contribute to the love of the game and to build memories is evident in our recent upgrades like new seating, more shade, an expanded team store, additional food options and a ship-themed playground with a splash pad (see photo)."
Nearly every exhibition game in Peoria will feature discounts and promotions, with many dates honoring those who serve others, such as teachers, police officers, paramedics and the military.
Salt River Fields at Talking Stick came in third in the rankings, and first in the food-and-drink category. In addition to numerous specialty kiosks, Native American food is served there, such as classic Indian fry bread topped with beans and cheese. It's been the home of the Arizona Diamondbacks and Colorado Rockies since 2011.
The City of Mesa and the Oakland A's funded the renovation of HoHoKam Stadium after the Cubs moved out after the spring of 2013. A's fans liked what they found there, as their online remarks about the convenient parking and easy access to restrooms and concessions prompted high marks in the fan experience category.
Goodyear Ballpark, the spring home of the Cleveland Indians since 2009 and the Cincinnati Reds since 2010, came in fifth. It ranked well above average in the family-friendliness category, but lower than average in food and drink.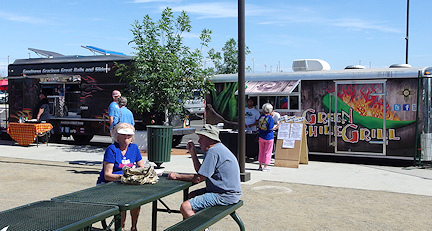 The Cactus League home of the Cubs, Sloan Park, finished sixth. While its family-friendliness was below average (perhaps due to its crowded nature, because it leads all of spring training in attendance), fans made positive comments about the barbecue, crepes and sushi from the rotating food trucks along the outfield concourse (see photo).
The Los Angeles Dodgers and Chicago White Sox train at Camelback Ranch in Glendale, where attendees have long decried the lack of shade. Now there are new shade structures that cast more shadows than before.
When the ReviewTrackers researchers drilled down to analyze comments about access to autographs, this complex finished first among all 23 spring-training parks. And it wasn't close, as it had more than double the positive comments as Goodyear Ballpark, which came in second.
This is likely due to the Dodgers' side of the complex, designed to resemble Dodgertown, their former spring-training home in Florida. Players must walk among the fans on their way to the practice fields and bullpens. "This is important," notes Schleicher, "because our research found that fans are six times more likely to talk about getting autographs at spring training than they are at regular-season games."
Coming in eighth is Scottsdale Stadium, spring home of the San Francisco Giants. While its crowded conditions (the Giants average over 10,000 a game) hurt it in family friendliness, barbecue and San Francisco favorite garlic fries allowed the park's concessions to score well above average.
The bottom two parks in the Cactus League are Maryvale Baseball Park, which finished last among the 23 spring parks in the facility category, and Tempe Diablo Stadium, which was next to last. The Milwaukee Brewers train in Maryvale and the Los Angeles Angels of Anaheim call Tempe home.
Schleicher observed that fans had a lot to say about Maryvale, very little of it positive. "In addition to its aging facility, fans encountered traffic jams, crowded parking on a dusty field and hit-or-miss shade for the seats." The Brewers finished next to last in spring attendance in 2017 among the 15 MLB teams that train in Arizona. Fans coming from Wisconsin have reason to hope for better surroundings in the future, as a massive renovation of the facility will be completed in a year.
Crowded concourses also plague Tempe Diablo Stadium, as $20 million in renovations in 2006 failed to overcome congestion issues. To give you an idea of the ballpark's age, consider it was built to be the spring home of the Seattle Pilots, an expansion team in 1969. The team lasted only a year before it relocated to Milwaukee.
"Even if you're attending an exhibition at one of Arizona's lower-rated parks, you're still enjoying baseball in gorgeous weather while many of your friends back home are shoveling snow," notes Graham Knight, operator of the helpful springtrainingconnection.com. "I think there's no better place to be in March if you're a baseball fan."
Check out our article on the spring-training parks of Florida.