Article and all photos by Joe Mock, BaseballParks.com
All rights reserved
Sometimes big ideas start off as small ones. And sometimes those ideas can transform an entire city … and win some awards, too.
Ballpark Stats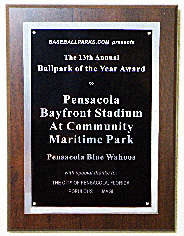 Award: Baseballparks.com's Ballpark Of The Year for 2012 (press release)
Team: Pensacola Blue Wahoos of the Double-A Southern League
First game: April 5, 2012, a 3-1 win against Montgomery
Capacity: 5,038
Architect: Populous
Construction: Magi
Price: $18 million, plus an additional $20 million for site prep
Home dugout: 1B side
Field points: East by southeast
Playing surface: Bermuda grass
Betcha didn't know: The massive supports that hold the scoreboard are constructed to withstand hurricane-force winds up to 144 mph.
Quint Studer and his wife Rishy owned and operated an independent league team in Pensacola, FL. As indy teams go, the Pelicans were highly successful — which in the independent-baseball world means remaining in business and in the same market for nine straight years, even though the Studers had to change leagues twice because the circuits kept going out of business.
As is often the case with such franchises, they play in whatever facility their market has on hand. For the Pelicans, that meant a ballfield on the campus of the University of West Florida, an NCAA Division II school about 15 minutes north of downtown, a long way from the beautiful Pensacola Bay. The Studers spent about $500,000 upgrading that ballpark, and those improvements allowed the UWF Argos to host — and win — the NCAA South Regionals in 2011 on their way to capturing the Division II College World Series title.
People with vision — people like the Studers — are capable of viewing things on a grander scale than most of us. They saw a mid-size city with a lot of natural beauty, but without much optimism about its future. The locals seemed to feel that Pensacola's best days were behind it. That's not what the Studers saw. No, they saw a city with resources and people poised to regain their past successes while still embracing their community's rich history.
They felt that a new city park, complete with a minor-league stadium and places for families to come together, would accomplish a great deal. And if located where the city could put its best foot forward, there was no telling how much the city's stature could be enhanced.
That location was a long-neglected waterfront site, right across the street from Pensacola's City Hall.
But then the final piece of the puzzle fell into place. The Studers had long assumed that if they could get the right facility, they might be able to land an affiliated Minor League team. Not only would that prevent the Studers from having to shop for a new independent league every couple of years when the old one went belly up, it would also upgrade Pensacola's reputation. After all, why be known as an indy-league market when you could be one of the big boys, on a par with other Southern cities like Montgomery, Mobile and Birmingham.
Playing checkers
Bringing a Southern League team to Pensacola wasn't an easy endeavor. First, Quint and Rishy Studer had to find a team for sale. When it turned out to be the Carolina Mudcats of Zebulon, NC, a replacement team for Five County Stadium (above) had to be located. That involved getting the Carolina League to agree for their Kinston franchise to leave Grainger Stadium (below) and move to Zebulon.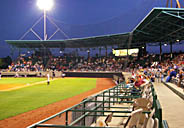 So the Studers set their sights on a Single-A circuit, like the South Atlantic League. After striking out there, instead of setting their sights lower, they elevated their target by focusing on the Double-A Southern League.
This turned out to be a complicated, tricky endeavor — one that necessitated an intricate series of steps, each one costing the Studers money. "I recall that Quint had to cut five different checks to make it happen," said Bill Vilona, a columnist for the Pensacola News Journal. First, he had to find a Southern League franchise he could purchase. When it turned out to be the Carolina Mudcats in Zebulon, NC, he then had to fulfill a lease requirement for their ballpark by getting the Kinston Indians of the Carolina League to agree to move 70 miles to Zebulon. That then required a payment to Kinston for the loss of their baseball team.
According to Vilona, the Southern League also required a payment for the Studers to become owners in their league, and the indy league required a payment for the successful Pelicans franchise to leave Pensacola. Finally, since the Mobile BayBears are less than 75 miles away, they had to agree to waive their territorial rights to the Pensacola market. That necessitated a payment to the BayBears. In addition, it was going to cost money to upgrade the facility for affiliated ball. "Originally, we were designing for the independent league Pelicans, for a park with 3,400 seats," said Aaron Noll, Architectural Technician with Populous, the architects of the facility. "Construction had actually already started."
"Our ownership wasn't required to pay for any of the construction," observed Bruce Baldwin, team president of the Blue Wahoos, "but he (Studer) did. We upgraded the seats twice, and that cost $350,000 of the team's money. It cost another $130,000 to tear out bleachers and replace them with nice fold-down seats, and another $500,000 for concession equipment. All told, Quint spent $2.25 million on park upgrades during construction."
Because of their commitment and generosity, the Studers had delivered Southern League baseball to Pensacola — and it's a very rare occurrence indeed when an affiliated team comes to a market that's been in an indy league. And having affiliated Minor League baseball "gives Pensacola a sense of pride that it's never had before," observed Vilona. The local residents "are so proud of how this all turned out."
And they have every reason to be. You can almost feel that pride when you're walking around Pensacola, talking to the locals. But it wasn't enough just to provide a team and a ballpark. There's so much more that went into this project, as you'll see in this review. The goal, according to Baldwin, was to create a baseball experience that was "uniquely different." While high school English teachers might not approve of that redundant phrase, I think it describes this ballpark beautifully.
The facility that gave Pensacola residents the uniquely different experience made such a huge impact on the local area (not to mention the city's waterfront) that it was named our Ballpark of the Year for 2012. Read on to see just how special this place is, and check out our press release that describes the award.
---
The Setting
To say that the location of the Blue Wahoos' new stadium is special is to make a ridiculous understatement. And to say that what is on that site today is pretty different from what used to be there is an even bigger understatement.
"A long time ago, there were petroleum tanks here," explained Vilona. "As of 18 months ago, this was an abandoned waste land (surrounded by) a chain link fence, with nothing but weeds. There was no hint of what was to come. To see it transformed from its neglected state to what it is now, well, I'm just amazed. It transformed an eyesore into a beautiful ballpark. It's really something that holds so much promise for this town."
This site is bounded by Main Street (above) on the north and the Pensacola Bay on the south, with City Hall almost right across Main Street. But this long-neglected site didn't become suitable for a ballpark without a lot of work. Because of the petroleum storage that took place here years ago, an enormous amount of environmental remediation had to occur. Vilona joked that "it cost more money to clean up the land — $20 million — than it did to build the stadium, which cost $18 million."
This waterfront parcel of land is just perfect now for a ballpark — but that's not all it will be used for. The entire area on this pier is now known as Community Maritime Park — and not "Park" as in "ballpark." This is considered to be a municipal park, where an amphitheater will soon open beyond center field in the southeast corner of the parcel, and where there is land leftover for a maritime museum or other commercial development. "Now that business people have seen it, they are wanting to invest in development here," noted Vilona. Baldwin predicts that a marina will be built on the southwest corner of the site at some point.
Truly, you have to see it to appreciate its many possibilities — possibilities that go beyond the ballpark.
This stunning aerial shot is by Aero Photo. Used by permission. All rights reserved.
But the ballpark is the first beneficiary of this wonderful location. "What sets (this ballpark) apart from other parks is its location. Its view of Pensacola Bay is fantastic," said Populous' Noll. It also is special in a way that baseball fans will appreciate. "If a batter hits a bomb to left field, it will land in the water, just like in San Francisco."
However, the first thing that will dawn on you when you see the location is that there is precious little parking next to the ballpark. Not to worry, says Baldwin. "We really had to change a mindset. In the old days, fans would drive to a stadium on the edge of town, park in a lot next to the stadium, attend the game, get in their cars and drive home.
"What does that do for the economics of a community?" he asked rhetorically. "So we moved to a place with a lack of parking to encourage fans to park downtown. They can park for anywhere from free to $10, and then we provide three different ways they can then get to the ballpark. We operate trams, shuttle buses and pedi-cabs to give them a ride to the park, and all of them are free."
One other benefit of the park's bay-side location will be appreciated by fans throughout the summer. "It's the breeze," noted Vilona. "It makes it more bearable than other parks in the Southeast."
But in the end, it's the breathtaking view that is the stadium's chief asset.
The site "is taking advantage of the city's natural assets," Baldwin points out. "If we'd have built this on any generic highway, we wouldn't be as successful as we are now, drawing 5,000 fans a game."
And he is virtually stating the obvious when he concludes, "We have one of the most beautiful sites in baseball."
---
The Exterior
Speaking of beautiful, the city of Pensacola has one of the most beautiful neighborhoods in America. The Seville Historic District isn't where the ballpark is located, but it isn't far away. This neighborhood provides the inspiration for much of the exterior look of Pensacola's ballpark.
Truly, if Pensacola has a "look," that look is embodied in the Seville area. If you have even a passing interest in architecture and design, you owe it to yourself to visit this gorgeous neighborhood. The showplace houses shown below are along East Romana Street.
At first glance, these houses look brand-new. Upon closer inspection, you see that they have been around for decades, but they are positively immaculately maintained. Even the landscaping and streets are perfect.
This Pensacola look of the houses of Seville, as well as the lovely commercial buildings downtown, was adopted by Populous for the outside of the new ballpark. Noll noted that the city "has a lot of history. We wanted it (the look of the ballpark) to feel a part of the city, and I think we did that well." Without question!
The left-hand image above shows the main structure behind first-base. There is room for a retail business along the street here (Baldwin conjectured that it would be perfect for a yogurt shop). The right-hand photo shows the building behind home plate. The street level holds the ticket windows and the team offices. The second level (which is on the main concourse within the park) has the souvenir store, a bar area and a customer service booth. The top level holds the press box.
The main entryway to the ballpark takes you up a stairway between the structure behind home plate and the one behind first. There is also a gate near the left-field foul pole, which is handy for fans who have parked northeast of the park along Spring Street (below).
The other entryway is all the way around the park, between the Bay and the field's right-center field. It's not used very heavily for baseball games because it's not near parking or the box office, but when they start having concerts at the amphitheater, this will be an important portal. That's because the restrooms that concert-goers will use are at this gate, plus the concourse beyond the park's outfield will be an absolutely perfect vantage point to watch the musicians on the stage (below left). Now honestly, have you ever seen a more beautiful backdrop for a stage in your life?
The area shown on the right-hand side below is near the right-field foul pole. This is an example of the flexibility that Populous and the team worked into the ballpark's plans, because this is space for future expansion. As Baldwin was showing me around the concourse, he pointed over to this spot and said that he'd like to have a water park for kids here at some point.
So the waterfront location and the ballpark's exterior are both impressive. Is the interior of the ballpark also "uniquely different"? Read on!
---