Article and all photos by Joe Mock, BaseballParks.com
All rights reserved
It's been said often that of all the stadiums in the Minors, AutoZone Park in Memphis has the game-day atmosphere that most resembles the Major Leagues. The Memphis Redbirds are the Triple-A affiliate of the Cardinals … so wouldn't it be interesting if games at the Cards' Double-A park also delivered a big-league feel?
Well, guess what! The Springfield Cardinals, the newest members of the Texas League, deliver. Do they ever!
Ballpark Stats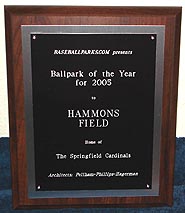 First game: Southern Illinois vs. Southwest Missouri State April 2, 2004. First pro game: St. Louis vs. Springfield (exhibition) April 2, 2005
Capacity: 7,986 seats, about 2,500 more are permitted for General Admission
Architect: Pellham-Phillips-Hagerman
Price: $32 million
Home dugout: 1B side
Field points: Northeast
Playing surface: grass (blend of bermuda and rye)
Betcha didn't know: The groundskeepers kill the rye grass in the field when the weather gets warm to allow the bermuda grass to take over
Hammons Field is in my opinion the best of 2005's new parks, if you'll permit me to categorize it as opening this year (when it actually made its debut in 2004, but there was no pro ball until 2005). That's why we've named it BASEBALLPARKS.COM's Ballpark of the Year. The full text of the press release on the award can be found here.
But before I go into detail about this incredible facility, let me tell you a little story.
In 2001, I began receiving e-mails from residents of Springfield, MO. They usually went something like this: "Hey, I live in Springfield, and we have a rich guy who lives here who is going to build a big stadium and bring Double-A baseball here. Not only that, the rich guy says that it will be a farm team of his beloved Cardinals."
I figured these folks meant well, but they didn't understand the bigger picture of ballpark construction and geography. After all, Missouri wasn't in the geographic area of any of the three Double-A leagues, and the Cardinals really like having both their Triple-A and Double-A teams in Tennessee. So I wrote back and told them that a Double-A team couldn't happen in Springfield, as the only possible league that could incorporate their market is the Texas League, and I'd asked its president on several occasions if there was a chance of a TL franchise landing in Springfield. He'd assured me that it wouldn't happen, both because it was too far away and because no TL team was for sale. So I concluded those responses by telling them that they'd be happy with a Single-A team from the Midwest League, which was a better fit geographically and which had a couple of franchises in dumpy old parks with only dim prospects of getting a new one.
Was I ever wrong.
John Q. Hammons was the octogenarian "rich guy" referred to in those early e-mails. He moved forward with building a $32-million ballpark without having a pro tenant to move into it. Indeed, it opened in 2004 with no Double-A franchise in sight. The local college team played its games there, but it wasn't until late in the 2004 season that Hammons' reputation as a mover and shaker manifested itself in the baseball world. Not only did he obtain permission from the Texas League for a franchise to relocate to Springfield, he also arranged for it to be a Cardinals affiliate.
Perhaps most stunning of all, Hammons didn't even have to use his own money to purchase the franchise. He persuaded the Cardinals to buy the El Paso Diablos so the team could be moved to Springfield.
So when I made my first trip to a Springfield Cardinals home game, I figured I needed to come clean. Mike Lindskog, the fine play-by-play man for the team, invited me to join him on the air. During the time I was on with him, I made a point of relating how Springfield residents had been writing me for years, and how I had always written back saying that a Double-A team would never happen there. I told the listening audience that evening that I had been "wrong, wrong, wrong," and that John Q. Hammons had been right all along. I was a naysayer, and Hammons was a "make-it-happen" kind of guy.
---
The Setting
The location of Springfield's new park isn't quite as noteworthy as in some other cities with new sports facilities. It is located just east of downtown, literally in the shadow of the massive Hammons Tower, where, I presume, important work for Mr. Hammons' empire is done. Adding to the feeling that the Tower is massive is the fact that it is uphill from the ballpark. If you're on the berm in the outfield of the park, the Tower dominates the view behind home plate (see left-hand photo below).
Parking lots are directly across Trafficway Street from the first-base side of the ballpark. They must provide exceptionally good parking spaces, as they are the most expensive ($7) I've seen at a Minor League facility.
A few blocks north of Hammons Field, and across some railroad tracks, is the pretty Ozark Technical Community College. It is very picturesque when you look beyond left field from the main seating bowl (right-hand shot below).
One of the most noteworthy aspects of the setting is the fact that the ballpark isn't crammed into, say, a city block, like you see at a lot of other facilities. This leaves an ample amount of room outside of the stadium for the large entry plaza, lawn and landscaping.
---
The Exterior
Like the new park in Corpus Christi, a great deal of effort was put into Hammons Field's exterior. It is positively beautiful. The landscaping is extensive and well-thought-out. There are countless flourishes and special enhancements in the brickwork, like the towers down the lines (left-hand photo below). There is also a large plaza just outside the main entryway behind home plate with plenty of room for friends to meet before heading into the park (right-hand shot below).
Although it takes nothing away from the beautiful aesthetics of the exterior, it did strike me as a little odd that the Will Call window is far removed from the main entryway. It is located at the entrance near the right-field foul pole, not behind home plate like at most other ballparks.
---
The Design
As at most stadiums, there is a plaque near the entrance of Hammons Field that lists the construction companies and contractors who built the park. Usually, you'll find the name of the architectural firm on it, too. One would expect to see that a heavyweight like HOK designed this ballpark … but that's not what the plaque says. It lists Pellham-Phillips-Hagerman as the "architects-engineers" of this project.
Who?!?
As far as I can tell, Pellham-Phillips-Hagerman has never designed a stadium before. They're responsible for quite a few educational buildings and churches in Missouri, and they've designed a number of hotels for Hammons Industries. I guess it stands to reason that Mr. Hammons would call upon them to be the architects for his pet project, a new ballpark for Springfield. While I understand that Mr. Hammons gave them a lot of input about what he wanted to be included in the facility, you have to give an enormous amount of credit to this small firm for producing such a warm and functional design. A spokesperson for the firm told me that Chuck Foster was the talented individual who was the lead designer of the ballpark.
Compared to the other new ballparks that have opened in 2005, the overall design of Hammons Field is more like the ambitious projects in Corpus Christi and Greensboro than the scaled-back ones in Charleston, WV and Stockton. That's because there is a large two-story (three, technically) structure housing the pressbox and many of the luxury suites behind home plate.
This is not at all uncommon in ballpark design these days, but there are some decidedly "uncommon" elements at Hammons Field that, I think, set it apart from the other new parks of 2005. First and foremost, there is the Redbird Roost area above the concourse running down the third-base line. If you can afford it, this is the place to watch a game in Springfield! The vantage point is perfect, as its elevation gives you a great view of the ballpark.
This section has only four rows of seats, and there is a large area behind the seats where you can sit at tables and eat if you'd like. There is a roof that covers this area as well as a majority of the seats. Perhaps best of all, your $22.50 ticket includes all you can eat of the food served at the concession stand on this level. This is living!
The shot on the left shows the Redbird Roost from across the field (it's the covered area above the grandstands), while on the right you can see the vantage point from the seats in this section.
Another nice aspect of the design involves what they did with the outfield. There are general-admission berm areas down the third-base line, as well as in left field and in right-center — although, oddly, these grassy areas seemed largely under-utilized to me, even when there's a sell-out crowd on a Friday night to see fireworks. In center field, of course, is a "batter's eye," but this one isn't the typical dark-colored netting or wall. In Springfield, it is a small grove of evergreen trees!
Regular readers know that I'm a big fan of "360-degree concourses" that run all the way around a playing field, but, alas, Hammons Field doesn't quite have one. You can make the clockwise trek all the way around to right field, but you can't complete the journey over to the right-field foul pole. I understand that this shortcoming — albeit, a minor one — is being addressed by the Cardinals, and the concourse will be extended at some point in the future to connect right field with the area down the first-base foul line.
The concourses at the rear of the main seating bowl are "open," meaning you can see the field as you walk to and fro. Like Citizens Bank Park in Philadelphia, there are lots and lots of counters at the rear of sections where you can set your drink or food and watch the game while standing up.
Near many of these counters is a design element that I don't think I've ever seen before. The last row in a number of the seating sections has a metal bench instead of a row of seats. I asked one of the many incredibly helpful ushers about this, and she told me that these are indeed reserved seats, and they are extremely popular because they have extra leg room. You see something new every day!
In the left-hand photo below, you can see fans sitting on one of these benches, while above them, folks are enjoying the counters that provide a great view of the field.
And one last element needs to be emphasized. As mentioned earlier, the attention to detail is incredible at Hammons Field. Nowhere is this more evident than in the support beams above the concourses in the main seating bowl. I realize that you might never notice this if you're paying attention to the game or trying to be careful that you don't run into the person in front of you, but while you're on the concourse, look up. The ornate supports are quite a treat (right-hand photo above).
The architects are well aware that they've designed a facility where local fans will be enjoying the National Pastime for many years to come. "We are very proud of this project and what it means to our firm as well as Southwest Missouri," said the firm's Director of Marketing, Brad Parke. He called the BASEBALLPARKS.COM award a "terrific honor."
---
The Essentials
As is probably obvious to you, a lot went into this ballpark … but I'm sure you want to know what the game-day experience is like.
Let me put it simply: from the moment you interact with the first Cardinals employee (probably someone at a ticket booth or a ticket-taker) at a game in Springfield, you will be blown away by how friendly everyone is here! After chatting with ticket takers, concession-stand workers, souvenir-shop employees and especially ushers, I was struck by the inescapable comparison that these people remind me of the Midwestern-friendly, customer-service-oriented employees at St. Louis Cardinal games.
Then an equally inescapable fact crossed my mind. The Cardinals own this team in Springfield!
"The (St. Louis) Cardinals really wanted everything in this place to have a Major League feel," Retail Manager Mike Kapp told me as we chatted in the phenomenal souvenir shop. "They really worked their butts off to make it happen." It really shows!
Thankfully, it doesn't cost as much to attend a Springfield Cardinals game as it does at their big-league parent 215 miles to the northeast … but the costs are higher than average for a Double-A franchise. The aforementioned $7 parking is pretty steep (although there are cheaper — and even free — alternatives if you're willing to walk a little bit), and the box seats close to the field at $12 are higher than in all Texas League cities except Frisco ($18). The Redbird Roost is in a class by itself, though, so its $22.50 pricetag (which includes free food, remember) is hard to compare to other parks.
Programs at $2 are a good buy, and the price of the merchandise in the souvenir shop is about what you'd expect. That store, by the way, is a must-see (left-hand photo below). The displays and the quality of the items are wonderful. This shop is better than the ones in the majority of Triple-A stadiums. "We had a couple of retail managers from Busch Stadium come down and help us set up the store here," said Kapp — who, himself, worked for the big-league club for four years. Figures.
If you assume that because the facilities and staff are great, then the food must be lousy … well, you'd be wrong. It is very good, and the variety is as extensive as at any other park in the Texas League except perhaps Corpus Christi and Frisco.
To me, the most noteworthy food item is called the Hammons Hoagie Dog. If you're going to pony up $6.50 for this treat, you'd better be hungry, as the half-pound hotdog is served on a large hoagie-style bun with sauerkraut. Some of these whoppers are being grilled in the right-hand shot above.
You can also pig out on pizza … without even leaving your seat! When you arrive at the game, you'll find a menu showing Domino's Pizza choices with a phone number. You can call their in-stadium kitchen from your cell phone, and they will bring your pizza to you.
As you would expect, kids are treated well at Springfield Cardinal games. Louie, the team's mascot, is great interacting with the younger crowd, and your kids will be thrilled when they see that Cardinal players, in uniform, are signing autographs near the entry gates. And they don't just do this occasionally. They do it at every game!
When I asked the team's Media Relations Assistant Brittany Bremer for her favorite aspect of Hammons Field, without hesitation she said, "I love the scoreboard. It's very large and gives you a lot of information, and the (video) screen is great for providing replays." I have to agree with her, as it is one of the outstanding "big-league" elements of the ballpark. In fact, the high-resolution video board is better than at a number of Major League stadiums.
I wouldn't expect Brittany to know this, but another clever, fan-friendly element can be found in the men's restrooms. Here you'll find small ledges above the urinals where you can set your beer while you, uh, make room for more beer. Just one of the countless nice touches in this park.
And you would think that the staff's duties would be finished when the last out of the game is made. Nope! The game-day personnel are positioned at all of the gates to thank the fans personally for coming. Considering how beautifully they conduct themselves during the pre-game and in-game periods, I guess I shouldn't be surprised that they do this once the game is over!
---
Summary
I'm sure that you aren't shocked to learn that the people of Springfield have embraced Hammons Field. During the first couple of months of the Cardinals' inaugural Texas League season, the average home crowd has been about 7,200 (later note: the team finished 2005 with the second highest attendance in all of Double-A baseball … and better than 19 Triple-A teams!). With fewer than 8,000 seats in the place, this certainly shows a strong turn-out!
"People here obviously love the park," Bremer told me. "Springfield residents tell us all the time how happy they are to have a piece of St. Louis so close to home." When you look at just how much this feels like a more-intimate version of a big-league experience, you can see why.
Brittany, by the way, could not have been more helpful or pleasant to deal with as I was preparing this review. When you consider that she is, after all, an employee of the Springfield Cardinals, this should come as no surprise!