Article and all photos by Joe Mock, BaseballParks.com
All rights reserved
In our first article on the venues that are new to the Carolina League for 2017, we looked at Jim Perry Stadium, home of the Buies Creek Astros. If you haven't looked at it, I urge you to read its intro to learn some of the background on how the Carolina League came to expand for this season, even though Major League Baseball didn't.
You'll find that article here.
Now let's examine the Down East Wood Ducks' Grainger Stadium, a new venue for 2017 that really isn't new at all.
GRAINGER STADIUM IN KINSTON, NC

Compared to games in Buies Creek, there appears to be a more serious approach 78 miles east in Kinston. There the Wood Ducks actually do want to sell tickets and move food and merchandise — but they do so in a light-hearted, down-home way. It feels right – and it works.
Ballpark Stats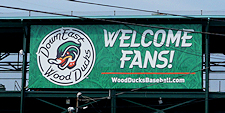 Team: Down East Wood Ducks of the Carolina League
First game: April 10, 2017, a 4-3 win over Winston-Salem
Capacity: 4,100
Dimensions: LF – 335; CF – 390; RF – 335
Original architect (1949): John J. Rowland
Original price: $170,000
Home dugout: 3B side
Field points: Northeast
Playing surface: natural grass
Ticket info:
woodducksbaseball.com
Betcha didn't know: The mascot is a duck named Dewd, an acronym for Down East Wood Ducks. Clever.
Grainger Stadium was home to the Carolina League Kinston Indians until 2011, when a complex series of moves engineered by the owner of the Pensacola Blue Wahoos transferred the team to Zebulon, NC. That was to fulfill a lease requirement for Five County Stadium there to have an affiliated Minor League tenant, because Pensacola had pilfered the Double-A Carolina Mudcats and brought them to the Gulf Coast.
That left Kinston — that had been the smallest city in affiliated Minor League Baseball — and its venerable ballpark with no regular tenant. During the next four years, there wasn't even a Coastal Plains League summer team, as you would've thought.
Regardless, the City kept the park maintained and the field in good playing condition.
Meanwhile, the Rangers were stung when the Myrtle Beach Pelicans tossed them out so they could sign a Player Development Contract with the Cubs in 2014.  That hurt because the Rangers really wanted their High-A team to be in the Carolinas because their Low-A squad is in Hickory, NC. Losing Myrtle Beach forced them to field a team in Adelanto, CA in the California League – a spot where no other MLB team wanted to be.
So the Rangers had their eye on Kinston — so much so that they had negotiated a lease on Grainger back in 2015 when they hoped the Wilmington Blue Rocks would be moving to North Carolina. When that failed to materialize, one assumes that the Rangers lobbied Minor League headquarters to facilitate the two-team swap between the Cal League and the Carolina League. They got their way when they essentially purchased an expansion team for Kinston at the same time the owner of the High Desert Mavericks was paid to allow his team to disappear.
And this is no temporary move. The Rangers invested in stadium improvements and signed a 12-year lease with the City of Kinston to make Grainger Stadium a permanent home for their High-A franchise. Some of the renovations ran into setbacks when Hurricane Matthew barreled through last fall, but a new concession stand, restrooms and clubhouse enhancements were in place for the return of the Carolina League in April.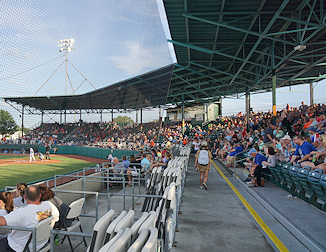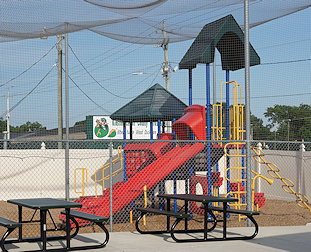 The wooden roof covering the grandstand recalls a bygone era. The children's play area near right field is modern, though — and safe, as it's covered by nets.
The ballpark dates back to 1949 when Jesse Grainger donated money and land so that a stadium could be constructed. As befits a 1940s-era ballpark, the grandstands are covered by a genuine wood roof. You can hear the whack when a foul pop-up lands on it.
Unlike newer parks, that wonderful covering comes with a price: there are supports all around the grandstand that do indeed cause visual obstructions for those in the back rows.  The locals don't seem to mind at all.
Modern niceties like an open concourse and a walkway that rings the playing field are non-existent here. That only adds to the charm.
And the naming of the team raised a few eyebrows when it was announced last year. Just as "High Desert" failed to name the city where the team played, "Down East" is a local phrase used to describe that part of North Carolina. And Wood Ducks aren't meant to mean wooden decoys. No, they are a common phrase for the colorful waterfowl in North Carolina's streams and ponds.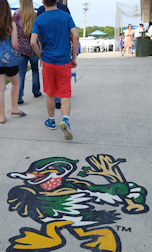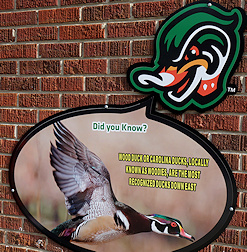 The team's logo finds its way onto dozens of spots around Grainger. Patrons walk on top of it going to their seats, and a clever series of signs ring the concourse with helpful facts about the waterfowl namesake of the team. For example, this one explains that wood ducks, "locally known as woodies, are the most recognized ducks Down East."
The team's logo follows the recent trend of Minor League emblems, perhaps because it was produced like so many others by the design agency Brandiose. It's a moderately serious looking head of duck – but not so serious as to scare children away from wanting merchandise with the logo on it. The official colors of emerald green, "hunting orange" and gold are indeed very attractive in a classic way.
My favorite spot for the Wood Duck logo is visible to all from the grandstand. It is emblazoned on the side of a water tower that faces the field. It's a straight shot down the left-field line (below left). Perfect.
And the spot where the home-team relievers sit and watch the game is, appropriately, a "duck blind" (above right).
Whatever the feel of "Down East" is, Grainger Stadium has it. Covered grandstands like this – covered by a wooden roof, no less – are a dying breed. I'm glad this one will be around for a long time.