Your webmaster ranks all 30 big league parks
For years, I've maintained a ranking of the 30 MLB parks here on BaseballParks.com. Then USA Today asked me to write an article on how I prepared my list. They also wanted me to take a fresh look at my 1-to-30 ranking. They then printed all of this in their 2013 Baseball Annual magazine.
They liked what I did, so they asked me to write 30 articles in 30 weeks, counting down the big-league parks from worst to best. That prompted me to re-think everything, and for the most part, the list below reflects that renewed thinking.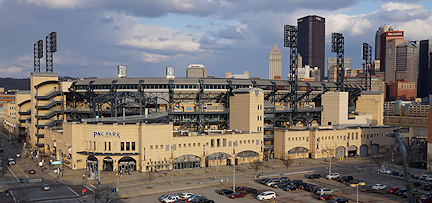 Since then, I decided to flip my #1 and #2, so Pittsburgh now wins and Wrigley (with its way-too-big-and-bright video boards) drops to second. I also had to remove Turner Field and find a place for SunTrust Park, which many fans have criticized, but I think for all the wrong reasons (hey, just because you're pissed off because the traffic and parking are bad doesn't mean the park's architecture and concessions are awful). And I adjusted Fenway downward because when I explain to people what I don't like about it, they invariably say "Then why do you rate it as highly as you do?" Good point.
No doubt, any ranking I do will stir up some controversy … so feel free to make comments in the space below the list to tell me how I'm all wrong. Before you do, though, keep in mind I haven't just read about the 30 parks currently in Major League Baseball. I've attended multiple games at every one of the 30, photographed all aspects of them, and written extensively about them. I think I've done my homework to be able to make some valid comparisons.
But they are still simply my opinions.
PNC Park
Wrigley Field
AT&T Park
Kauffman Stadium
Coors Field
Oriole Park at Camden Yards
Citi Field
Fenway Park
Petco Park
SunTrust Park
Target Field
Dodger Stadium
Busch Stadium
Marlins Park
Safeco Field
Nationals Park
Yankee Stadium
Comerica Park
Citizens Bank Park
Miller Park
Progressive Field
Globe Life Park
Great American Ball Park
Minute Maid Park
Rogers Centre
Angel Stadium of Anaheim
Guaranteed Rate Field
Chase Field
Tropicana Field
Oakland Coliseum