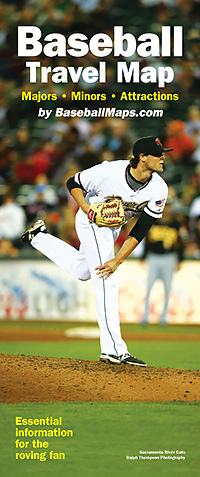 The fully updated 2016 edition is now in stock!
An incredible wealth of information for only $9.95
I've carried the Baseball Travel Map thousands of miles as I've criss-crossed the country on ballpark journeys.
On one side is a lovely map of the U.S. that shows major routes and (more importantly) the locations of every Major League, Minor League and Spring Training ballpark and baseball museum or attraction … and they now also include independent league teams, too! On the other side is invaluable contact info for all of the teams in the Majors and Minors.
Truly, to a baseball fan, this is an indispensable tool. You'll want to take this sturdy, laminated map with you everywhere you go!
Specifications
Fully updated for teams, parks and baseball attractions for 2016
Laminated, folded map
10.5″ tall by 26″ wide unfolded
Shows location and contact information of all MLB and Minor League teams in North America
Only $9.95 (plus shipping)
Shipped First Class mail from Texas
Shipments are made to U.S. addresses only. (P.O. Boxes or street addresses)
Sales tax applies to orders shipped to MN, CO or wherever required by law
The map is ©2016 by Hedberg Maps, Inc.
2016 EDITION PRICE:
PRICE: $9.95 plus shipping