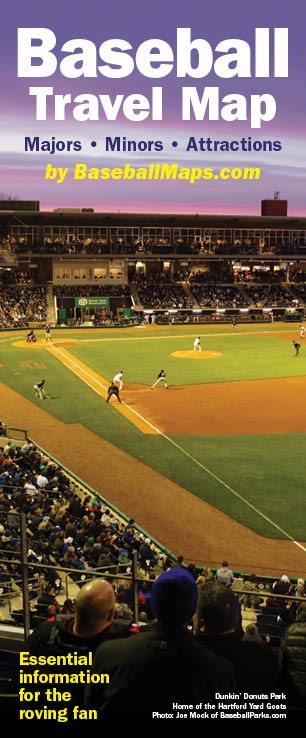 Fully updated for 2018!
An incredible wealth of information for only $9.95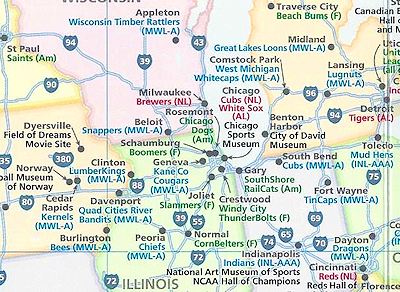 I've carried the Baseball Travel Map thousands of miles as I've criss-crossed the country on ballpark journeys.
On one side is a lovely map of the U.S. that shows major routes and (more importantly) the locations of every Major League, Minor League (affiliated and independent) and Spring Training ballpark and baseball museum or attraction. On the other side is invaluable contact info for all of the teams in the Majors and Minors.
The cover photo on the 2018 edition of the map shows Hartford's Dunkin' Donuts Park (shown above). The picture was taken by the webmaster of BaseballParks.com, Joe Mock. You have the option of having Joe autograph the cover of the map if you'd like for no additional charge.
Truly, to a baseball fan, this is an indispensable tool. You'll want to take this sturdy, laminated map with you everywhere you go!
Specifications
Fully updated for teams, parks and baseball attractions for 2018
Laminated, folded map
10.5″ tall by 26″ wide unfolded
The map is ©2018 by Hedberg Maps, Inc.
Shows location and contact information of all MLB and Minor League teams in North America
Only $9.95 (plus shipping)
Shipped First Class mail from Texas
Shipments are made to U.S. addresses only (P.O. Boxes or street addresses).
Sales tax applies to orders shipped to MN, CO or wherever required by law.
Select the quantity of maps you want to order after you click on Add to Cart.
If you want the cover of the map to be autographed by the photographer of the picture of Dunkin' Donuts Park, simply say YES in the text above the Add to Cart button. There's no extra charge. (If you want a special inscription with the signature — like "Happy Birthday, Timmy!" — simply type it in the box.) Leave the box blank if you don't want the cover signed.
2018 EDITION PRICE:
$9.95 plus shipping