Big Story of 2007: AT&T Park hosts key events
Welcome to our annual look at the year that was in the world of ballparks. A lot happened in 2007, but no park was in the spotlight more than San Francisco's AT&T Park. Sometimes this wasn't for positive reasons, like steroid allegations, indictments and a forced end of a tenure (with Barry Bonds being informed during the Giants' last homestand that he wouldn't be offered a contract for 2008). Not only did AT&T Park host the All Star Game, it was the scene of some historic moments, almost always involving Bonds. Just as he had done with every milestone in his career (home run number 500, 600, 661 to pass Willie Mays, 700, 715 to pass Babe Ruth), Bonds set the all-time HR mark in San Francisco, blasting number 756 at home on August 7th.
And there was a little bit of a calm before a storm. 2008 and 2009 will see a slew of new parks open, but in 2007, only two brand-new ballparks opened (in North Little Rock, Arkansas and Midland, Michigan), as well as one essentially rebuilt park (Idaho Falls).
As usual, I visited an awfully lot of ballparks in 2007. Although it represented a slight decrease from my 2006 total, I attended games at 57 pro and college parks in 2007, starting with the Caribbean World Series in February. Along the way, I was at the first game ever played in the Arkansas Travelers' new park, and the College World Series in Omaha. And everywhere I went, I was taking pictures, chatting with fans and the media, and trying to promote a love for ballparks.
Here now is my recap of the ballpark highlights of 2007: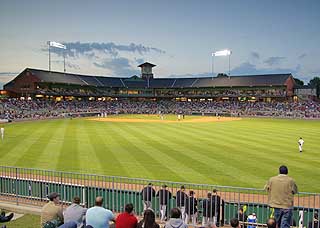 My favorite new park of the year was Dickey-Stephens Park, the sparkling new home of the Arkansas Travelers of the Texas League. It was also the site of the most tragic event to befall baseball in many, many years, as Tulsa Drillers first-base coach Mike Coolbaugh was hit and killed by a line drive there in July.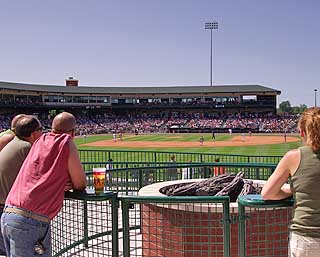 The other brand-new park in the affiliated Minors (there were none in the Majors) was the phenomenal Dow Diamond in Midland, Michigan. In most other seasons, this would have been our ballpark of the year, with its significant brick structure and numerous nice touches (like the warming pits in the outfield). Without a doubt, this facility should be warming the hearts of the fans of the Great Lakes Loons of the Midwest League for many years to come.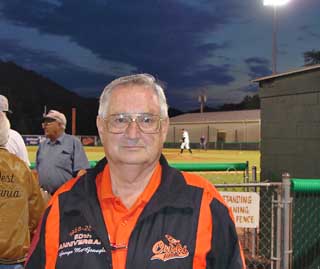 Three impressive men retired in 2007, leaving a void in our ballpark world that will be difficult to fill. First, George McGonagle (right) has ended an incredible 18 years running the Bluefield Orioles. He's overseen significant improvements to Bowen Field, one of the most picturesque in the Minors. Also retiring are John Moss, president of the South Atlantic League and its predecessors for half a century, and everyone's boss in the Minors, Mike Moore, who presided over Minor League Baseball for 16 years. They'll all be missed greatly.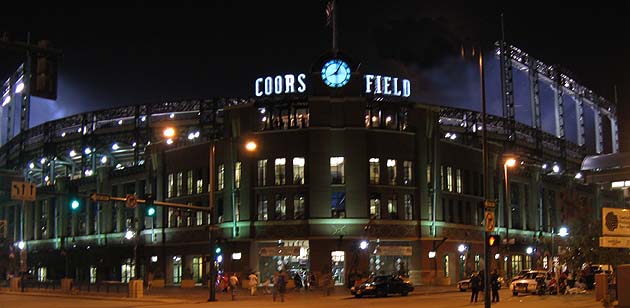 One of the most interesting developments in 2007 occurred in this building. The long-moribund Colorado Rockies caught fire late in the season, and surged into the playoffs. Riding the wave of a record setting run of 21 wins in 22 games, the Rockies packed Coors Field (doubling their normal per-game crowds) and streaked into the World Series.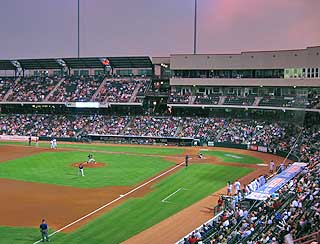 Speaking of crowds, AT&T Bricktown Ballpark in Oklahoma City hosted the Triple-A Championship for the second year in a row, and both times the crowd topped 10,000. Well done!
2007 means the end of baseball at RFK Stadium in D.C., as the Nationals' fabulous new HOK-designed ballpark opens in 2008. Yes, many fans missed baseball in Washington during its 33-season hiatus, but, no, RFK won't be missed.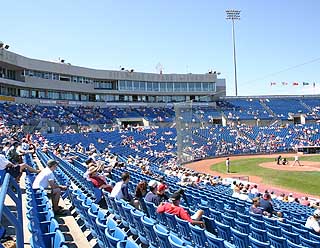 In the Minors, two parks are being jettisoned — at least for affiliated Minor League ball. Lynx Stadium (left) in Ottawa saw its International League team flee the country by moving to Allentown, PA for 2008, and the Wichita Wranglers are becoming the Northwest Arkansas Naturals, leaving Lawrence Dumont Stadium in Wichita without a tenant in the affiliated Minors.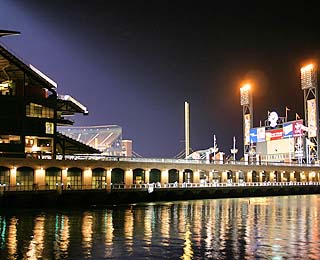 As much as some fans might not want to admit it, in some ways, San Francisco's AT&T Park was the center of the baseball universe this year. Not only was it the site of Barry Bonds' (possibly steroid-tainted) 756th career home run, it's also where the American League All Stars beat their National League counterparts 5-4 on July 10th.
Lightning struck for a second time, as the Red Sox won their second World Series in the last four. And just like in 2004, they swept their National League opponents. The deciding games of the ALCS were held here at Fenway, as were the first two games of the Fall Classic. And it didn't take them long to hang the 2007 Championship banner on the exterior wall of Fenway after the final out of the World Series! (Thanks to Graham Knight of Baseballpilgrimages.com for the photo.)
A number of other milestones occurred at ballparks in 2007, including Sammy Sosa hitting his 600th career home run (on the actual swing shown here) at Rangers Ballpark in June.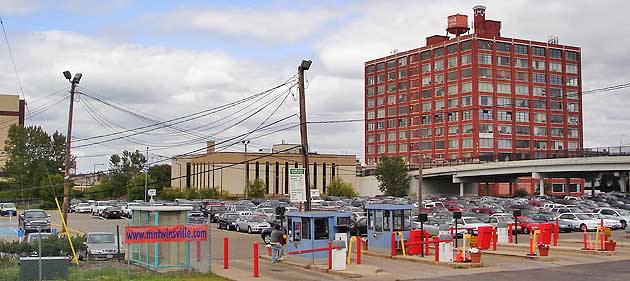 This seemingly unimpressive spot in downtown Minneapolis was the site of a lot of commotion in 2007. This is where the new Twins ballpark is being built, but after construction started, the purchase price of the land still hadn't been finalized. A tremendous amount of arguing, legal maneuvering and finally mediation ensued, and a year after the site was chosen, the sale price was finalized. By the way, an official groundbreaking ceremony occurred in August (after construction had been ongoing for months), but even that had been postponed because it had originally been scheduled for the day after the tragic bridge collapse in Minneapolis.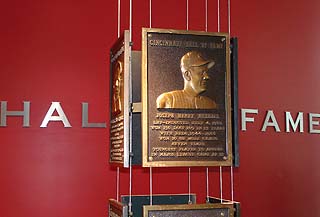 Among the notables who passed away in 2007 was a personal favorite of mine, Joe Nuxhall. He was a fixture at Crosley Field (where he was the youngest player ever to appear in a Major League game), Riverfront Stadium and Great American Ball Park. In all, he was a member of the Reds family for an incredible 63 years as a player and broadcaster. He's in the Reds' Hall of Fame (left), but here's hoping that he is inducted into the broadcasters' wing in Cooperstown in 2008!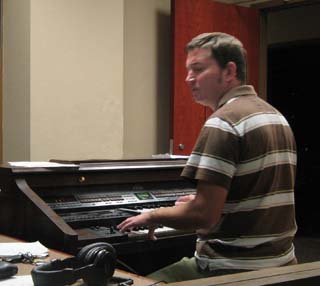 Going to a ballgame involves more than just what you see. The baseball experience is also what you hear … and one sound that is fading from the scene is that of organ music. This is a shame! I was delighted to encounter organist Gordon Stevenson at an Arizona Fall League game in Scottsdale in October, and I truly hope that more ballparks will be graced with the sounds of an organ in the future!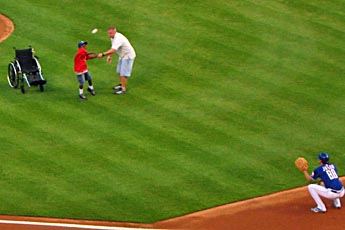 And finally, in a year in which steroids, human growth hormone, tainted home run records and bench-clearing brawls seemed always to be in the news, remember that sometimes, really good moments can happen at the ballpark. Prior to a meaningless late-season game in Arlington, Texas between two teams going nowhere, the Make A Wish Foundation made this ceremonial-first-pitch dream come true. When it comes right down to it, that dream was more important than the game that followed.