Big Stories of 2009: Yanks again use new park as motivation to conquer the baseball world; one of the all-time best parks opens in Ohio
Welcome to our annual look at what made news in the world of baseball parks. In 2009, were there new parks? Have there ever been more new parks in one year than this one? I don't think so.
The one that had everyone talking was, of course, also the one that cost more to build than any other sports facility in history. And the tenants used their new-home-field advantage to win it all.
But that wasn't the only new park in the Big Apple, as the Mets' gorgeous new digs also made its debut. The realm of spring training also saw three new entries, although one of them was built on the skeleton of a predecessor stadium.
In the minors, there were almost too many new facilities to count. In Triple A, new parks sprung up in Columbus, Gwinnett County (GA) and Reno. A-ball brought us beautiful new yards in Ft. Wayne and Bowling Green.
Two parks were very significantly rebuilt, one in Visalia, CA and the other in KC.
And through it all, BASEBALLPARKS.COM was on hand to photograph the new showplaces and write the most comprehensive ballpark reviews you'll find anywhere.
To make sure I hit all 12 new or rebuilt parks, I was forced to deviate from my normal baseball travels (which usually involve hitting every stadium anywhere near where I'm going to be). That meant that I saw games in only 47 different parks in 2009, my lowest total in six years.
But as you'll read below, one rainy game I attended in 2009 will stand out in my mind forever, and it wasn't at a shiny, new ballpark, either.
Here now is my recap of the ballpark highlights of 2009:
It dwarfs its old home across the street. It cost more to build than any sports facility ever. It has some of the most expensive seats in baseball history. It prompted the longest ballpark review we'd ever written. It spawned more scandals (improper tax avoidance, lack of park land returned to the neighborhood, key inspections not done, even a buried Red Sox jersey) than you could count. It could only be called Yankee Stadium. Oh, and the team brought a World Series Championship to the Bronx in its first year … just as they did in 1923, when the original Yankee Stadium opened. Also, after the stadium shut down for two years for renovations, the Bombers made their first trip to the Fall Classic in 12 years in 1976, the first year they played in their rebuilt playground. I guess they like playing in new facilities!
But I didn't think new Yankee Stadium was the best to open in the world of baseball in 2009. Not even in the Majors. Not even in New York! No, the Mets' Citi Field was a nicer, "funner" place to watch a game. And it cost about half as much to build.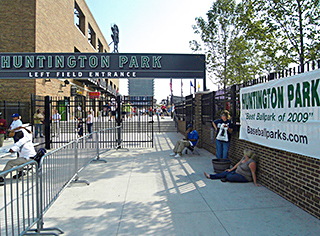 The new park that I thought was the most ground-breaking and impressive of them all in 2009 was Huntington Park, home of the Columbus Clippers. 360 Architects designed a facility for the ages. That's why it won the BASEBALLPARKS.COM Ballpark Of The Year Award for 2009.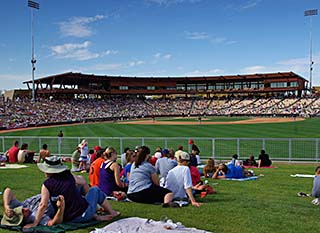 Continuing the trend of building bigger and bigger spring-training parks, and including two teams in the mix, was Glendale, AZ's Camelback Ranch. The White Sox and Dodgers share this massive structure in the spring. Nearby Goodyear also opened an impressive two-team complex in 2009 as well.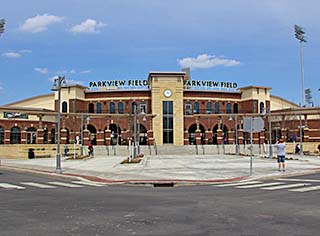 Almost lost among the blizzard of new parks in 2009 is Parkview Field, a facility that is as aesthetically pleasing as any to open this decade. HOK, which had just changed its name to Populous as this park was opening, was behind the design of this beauty.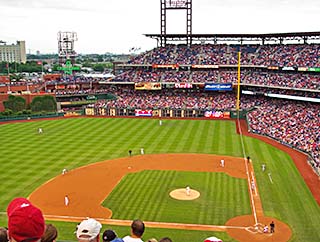 The Phillies brought the World Series back to Citizens Bank Park for the second year in a row. The fact that their powerful team full of top-notch pitching made it to the Fall Classic wasn't as stunning as the almost nightly sell-outs they had at CBP in 2009, including this one against Toronto in June.
$250 million isn't enough to build a completely new Major League ballpark these days, but it's enough to transform a 35-year-old stadium into a modern showplace. Kansas City's Kauffman Stadium is now as nice as they come, complete with a new exterior, an outfield concourse full of features for young and old, and the ability to get up close and personal with those famous fountains.
The baseball world still mourns the loss of Mike Coolbaugh, who was killed by a foul line drive in 2007. The always classy Round Rock Express honored the man who played third base for them many, many times by retiring his jersey and honoring his wife and children at a game at the Dell Diamond on April 10. Here, his courageous wife Mandy thanks the crowd while Mike's two sons are by her side. Express CEO Reid Ryan is looking on. To say the ceremony was moving would be a huge understatement. Later that season, the excellent book about Mike called Heart of the Game: Life, Death and Mercy in Minor League America by S.L. Price was released. You should read it.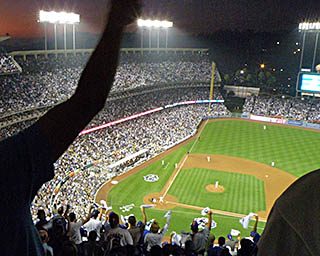 I bought tickets for plenty of MLB playoff games this year. Unfortunately, most of them didn't get played. However, I did spend an enjoyable evening attending Game 1 of the NLCS at Dodger Stadium. The home team lost to the Phils, but it was great seeing such enthusiasm from the normally docile Dodger faithful.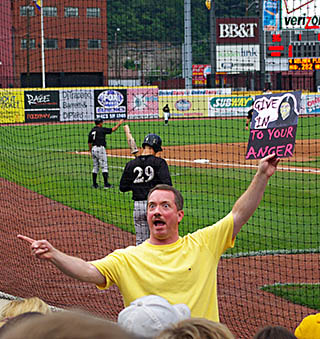 The most meaningful game that I attended in 2009, though, didn't involve a new park, post-season play or a moving ceremony. On July 25th, my son and I attended a rainy home game of the West Virginia Power with my 81-year-old father. We walked all around the park that evening, enjoying the antics of Rod Blackstone (left), the zany fan known as the Toast Man. We even snuck in a stint in the pressbox where I was interviewed on the air by likeable Power broadcaster Andy Barch. A month later, my father, who had driven thousands of miles taking me to baseball games in my younger days, passed away. Barch later told me that he has "always believed that baseball is a special way for fathers and sons to bond, which you and your father clearly did very well." That was nice of him to say. And I hope it's true of my son and me, too.