Big Stories of 2012: Hello to Marlins Park, JetBlue and Bayfront; bye to Yakima and Hoover; Anniversaries galore; Cubs prepare new spring facility
In December of every year, we give you a round-up of the biggest ballpark stories of the year. Our "Ballpark Year in Pictures" provides a chronicle of the baseball facilities that have made news — brand-new parks and ones where we're saying goodbye; ones celebrating 20th, 50th and even 100th birthdays; and ones where really big things happened.
You might find it interesting to go back and look at these year-end reviews from the past. We have links to them here.
In 2013, don't forget to check our home page often, as we update ballpark news daily. And if you're a Facebook member, please "like" our page there so you'll know when we post something new.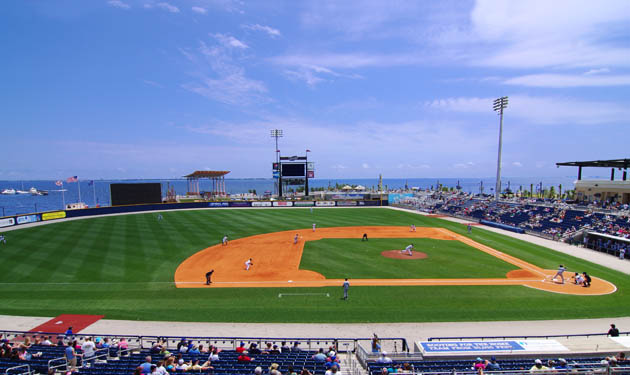 In a year that saw a new Major League stadium and an expensive new spring-training park open, we felt the best new one was a Double-A park in a market that hadn't had affiliated Minor League baseball before. Pensacola Bayfront Stadium, near the Gulf Coast in Florida, won our Ballpark Of The Year Award for 2012. See why here.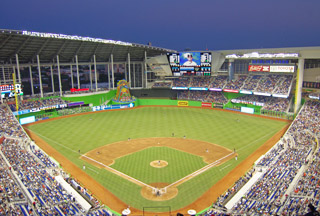 The Major League park that opened in 2012 was, of course, Marlins Park in Miami. The team was a bust, but the ballpark absolutely wasn't. While its neighborhood isn't the best, the facility itself is an absolute marvel. The engineering involved in the exterior and the retractable roof is simply stunning, as is its interior color scheme. Read our in-depth review here.
The new spring-training park was constructed for the Red Sox, near the Fort Myers Airport. It is the nicest one in Florida. Read all about the Bosox' new springtime home here.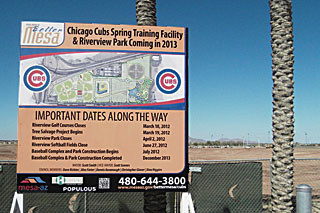 The Cubs will soon have a new springtime home themselves. In 2014, they will move out of HoHoKam Park and into a brand-new complex and stadium being constructed on the site of a now-closed golf course (left). Construction began in earnest in July.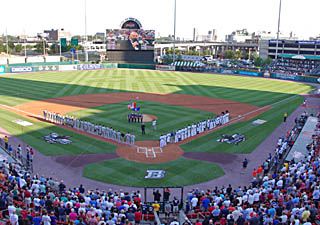 The MLB All Star Game was held in the recently remodeled Kauffman Stadium in KC. Also doing an exceptional hosting job was Coca-Cola Field (right) in Buffalo, where the Triple-A All Star Game was held.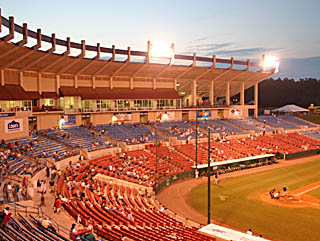 We said goodbye to Hoover, AL's Regions Park (left), where the Birmingham Barons had played since 1988. In April of 2013, the team moves into Regions Field in downtown Birmingham.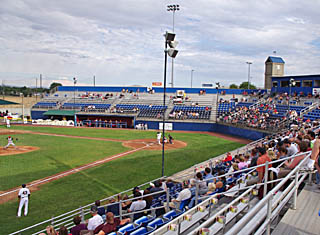 Not only did the Yakima Bears of the short-season Northwest League said goodbye to lackluster Yakima County Stadium (right), they said so long to the Yakima market! In June of 2013, they move into a brand-new ballpark being constructed in Hillsboro, Oregon, a suburb of Portland.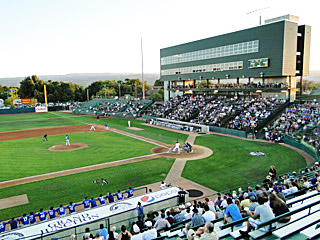 Pro baseball landed in Grand Junction, Colorado for the first time, as the Caspar Ghosts of the Pioneer League moved from Wyoming to Colorado. Suplizio Field, longtime home of the Junior College World Series, now hosts Minor League baseball as well. (Photo courtesy of Graham Knight of BaseballPilgrimages.com)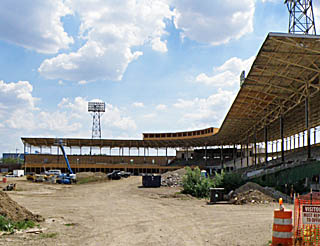 One long-abandoned ballpark made news because of the way it's being re-purposed. Bush Stadium was the home of Triple-A baseball in Indianapolis for decades prior to the opening of Victory Field in 1996. In the years since, the ballpark was used for a number of events, but essentially was allowed to deteriorate. Now the frame of the ballpark is being retained as high-end loft apartments are being constructed within the stadium.
And were there ever milestones reached in 2012! Oriole Park at Camden Yards celebrated its 20th birthday. Dodger Stadium (left) marked half a century of playing in Chavez Ravine. And, of course …
The biggest milestone of them all was in Boston. where they celebrated a "Fentennial," as Fenway Park marked the 100th anniversary of its opening. In observance of the occasion, we provided a photo essay of how the quirky-shaped — but beloved — ballpark looked in its 100th year.
Visit our 2011 Ballpark Year In Review here.
Return to the Ballpark Essays page
What do you think was the biggest ballpark story of 2012? Have any thoughts about the news items above? Post a comment below: