Special on Ballpark Food
By Joe Mock, BaseballParks.com
All rights reserved
In July 2014, USA Today Sports Weekly ran a four-page special section on the current state of ballpark food in the Majors. Three of the pages were written by me. Through a special arrangement with the editors, I am offering you the chance to read the original, unabridged writings and research I submitted to Sports Weekly. As always happens, they chopped a number of things out in the print edition of the publication … but I wanted you to be able to see everything I wrote. Let me know what you think in the Comments section at the bottom.
---
Big Leagues Going Deep at the Plate
(this is the first section of Sports Weekly's special pull-out on ballpark food)
SAN FRANCISCO The gameday payroll of the Chicago White Stockings in 1883 included four ticket sellers, three groundskeepers and six "refreshment boys," who brought drinks to the well-to-do in Lakefront Park's 18 rooftop boxes, the precursor to today's luxury suites. However, there was no alcohol among the "refreshments," because team owner Albert Spalding disapproved of drinking.
That's a far cry from today's big league parks, where you can buy craft beers, wine on tap, 24-inch-long hotdogs, sushi and three-pound banana splits – all while keeping an eye on the game.
And what would baseball be without hot dogs?
In the sport's early years, concessions usually consisted of soft drinks, beer and ice cream. Legend has it that the hot dog first made an appearance at New York Giants games soon after the turn of the century. Ice cream vendor Harry Stevens is credited with the idea of putting a wiener on a bun so Giants fans could eat something warm at cool early-season games. Stevens was even given a special citation by the Historic Society in his native state of Ohio for his invention.
Today, there are so many kinds of hot dogs – not to mention astonishing toppings — around America's ballparks that Tom Lohr of Tulsa, is on a one-man mission. This season, he is hitting all 30 MLB parks (so far, he's driven 14,990 miles doing it) and examining the standard hot dog in every one of them. He then assigns a numerical score. "I'm out to discover the best baseball-hot dog experience," Lohr told USA Today Sports. He even consulted with the National Hot Dog and Sausage Council on how to do his ratings. His findings can be found on his Blog About A Dog, which is subtitled "In search of the best ballpark dog."
Just as with high-resolution video screens and plush party decks, teams are in an arms race to raise the bar on their concessions. "Fans have become more food-savvy and have higher expectations than ever before, due to the popularity of cooking shows, the rise of the celebrity chef and general culinary awareness," noted Dave Freireich of concession titans Aramark. "We need to ensure today's ballpark menus are of a high quality, meet the discerning tastes of fans and offer a wide variety of items." The winner of that arms race between the teams, of course, is the fan, who can choose from a staggering array of options at the concession stands at his favorite ballpark.
Team-by-team fare
| Team | Food service vendor | Signature food item | Comments |
| --- | --- | --- | --- |
| Arizona Diamondbacks | Levy | Sonoran Dog, wrapped in bacon with beans, onions, cream sauce, jalapeño salsa – $7 | Some hot dogs, sodas, popcorn only $1.50 |
| Atlanta Braves | Aramark | H&F Burger, handcrafted by famous Holeman & Finch Public House – $15 with fries and Coke | A Waffle House is within the park |
| Baltimore Orioles | Delaware North | Crab cake, the favorite sandwich of the Chesapeake Bay area – $16 | Home of Boog's BBQ |
| Boston Red Sox | Aramark | Fenway Frank, the iconic Kayem Foods hot dog with the white-bread bun – $5 | New 3B Deck has 40-foot bar, 41″ by 161″ video wall |
| Chicago Cubs | Levy | Chicago style deep dish pizza – $5.50 a slice | Decade Dogs include Reuben Dog to represent 1910s, TV Dinner Dog for 1950s |
| Chicago White Sox | Delaware North (Levy does suites/club) | Chicago Dog, a Vienna beef dog with onions, green relish, tomatoes, sport peppers, pickle spears, celery salt – $6.75 | Spectacular formal dining area above right field |
| Cincinnati Reds | Delaware North | Skyline Chili Dog, a Hillshire dog with mustard, Skyline's Cincinnati Chili, onions, shredded cheddar – $5 | New: MLB's longest bar, at 85 feet with 60 beer taps |
| Cleveland Indians | Delaware North | C-Dawg, a half-pound dog with chili, cheese, onions – $11 | Craft beers aplenty |
| Colorado Rockies | Aramark | Rocky Mountain Oysters, deep-fried bull testicles – $7.50 | Fans are enjoying drinks and socializing at new Rooftop area |
| Detroit Tigers | Delaware North | Poutine Dog, covered with fries, beef gravy, cheese curds – $7.50 | With Delaware North since 1930 |
| Houston Astros | Aramark | Nolan Ryan-raised beef burger – $8.75 | New BLT sandwich features chicken-fried bacon on Texas toast with three-pepper mayo |
| Kansas City Royals | Aramark | Sweet Baby Ray's BBQ brisket sandwich – $8 | Cheesy Corn Brisket-acho: tortilla chips with brisket, slaw, baked beans, BBQ sauce and cheese-covered corn |
| Los Angeles Angels | Legends (1st year) | Carne Asada Waffle Fries, a twist on a Southern California favorite – $9.50 | Legends spent millions overhauling stands, menus |
| Los Angeles Dodgers | Levy | Dodger Dog, the 10-inch Farmer John dog that is a ballpark icon – $5.50 | Stadium renovations allowed expansion of concessions |
| Miami Marlins | Levy | Cuban sandwich, three kinds of pork, Swiss, pickles, heated in a panini press – $10 | Taste of Miami food court is very special |
| Milwaukee Brewers | Delaware North | The Beast, a wiener wedged into a foot-long brat – $9 | Dogs, brats, sausages, beers abound |
| Minnesota Twins | Delaware North | Juicy Lucy burger, with cheddar inside the patty – $12 | State Fair stand features pork chop on a stick |
| New York Mets | Aramark | Nathan's Famous Hot Dog, made famous at Coney Island – $6.25 | Perhaps the best variety of foods in the Majors |
| New York Yankees | Legends | Lobel's steak sandwich, six ounces of prime beef from Manhattan's premier butcher – $16 | Sit-down eateries NYY Steak and Hard Rock Café onsite |
| Oakland Athletics | Ovations (1st year) | Local wines – from $8 a glass | Huge turnaround under Ovations |
| Philadelphia Phillies | Aramark | Cheesesteak, a Philly classic – $9.50 | Great combo: fried chicken with donuts |
| Pittsburgh Pirates | Aramark (Levy does suites/club) | Primanti sandwich (fries, slaw, tomatoes piled on the meat) – $8.50 | Beers include blondes, whites, ales and IPAs |
| St. Louis Cardinals | Delaware North | Bacon-wrapped hot dog, topped with baked beans, onions, St. Louis BBQ sauce – $9.25 | Figures that there are over 50 beers available |
| San Diego Padres | Delaware North | Friar Frank, the Wienerschnitzel dog with the reasonable price – $4.75 | Great seafood, like grilled shrimp romesco sandwiches |
| San Francisco Giants | Centerplate | Garlic Fries, perhaps the most famous of all signature concessions – $8 | Could bubble tea catch on? |
| Seattle Mariners | Centerplate | Fish and chips, featuring a large plank of local ling cod – $11 | Ichiro's gone, but Ichi-roll sushi still available |
| Tampa Bay Rays | Centerplate | Cuban burger, stacked in a pressed Cuban sandwich with ham, Swiss, mustard – $13 with fries | Everglade BBQ smokes its own brisket |
| Texas Rangers | Delaware North | Boomstick Dog, 24 inches of hot dog, chili, nacho cheese, jalapenos and caramelized onions – $26 | Wonderful food court opened in 2013 |
| Toronto Blue Jays | Aramark | Signature Poutine, Ontario and Quebec favorite with fries, gravy, cheese curds – $7.75 | Financial District Burger features Toronto's own peameal bacon |
| Washington Nationals | Levy | Crab Pretzel, a soft pretzel braid topped with béchamel sauce, crabmeat, cheese and Old Bay seasoning – $10 | Ice cream float made with beer |
---
Ballparks Atop the Food Order
(this is the second section of Sports Weekly's special pull-out on ballpark food)
TOP TEN BALLPARKS
While all 30 MLB clubs have invested in improved food offerings, here are the ten teams that we believe offer the best concessions at their parks (in alphabetical order):
Baltimore Orioles – Baseball roadtripper Tom Lohr has given a perfect score to only one park's hot dogs, and that park is Camden Yards. "The great ballpark and the great hot dog go really well together," he pointed out. Aside from outstanding hot dogs, you'll find hometown favorite Boog Powell's BBQ, crab cakes, Jack Daniels' ribs and chicken, and the very popular Crab Mac N Cheese Dog. Lohr also appreciates that the team's executive chef, Josh Distenfield, emphasizes sustainability, as "he keeps all of his suppliers local and (his) operations green."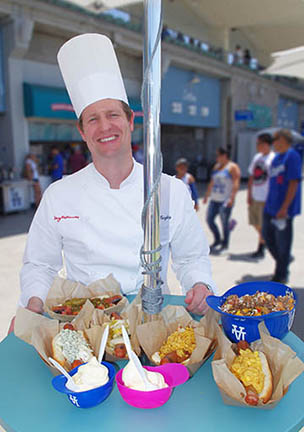 Jason Tingley of Levy Restaurants, the food service vendor for the Dodgers, is the Executive Chef at Dodger Stadium. Here he shows off some of the delights that fans can now enjoy, thanks to enlarged and enhanced food-prep space. Photo by Joe Mock
Los Angeles Dodgers – It doesn't seem that long ago that the only food item sold at Dodger games was the Dodger Dog. Thanks in part to the $100 million restoration at Dodger Stadium prior to the 2013 season, most concession stands were enlarged so that food could be prepared right there behind the counters. This allowed Executive Chef Jason Tingley (left) of Levy Restaurants to create an incredible array of delicious new offerings, including the Brooklyn Dodger Dog, with seasonings reminiscent of the Dodgers' first home, and Italian favorites at Tommy Lasorda's Trattoria. Don't fret: they still sell Dodger Dogs.
Miami Marlins – Like the Dodgers, the Marlins rely on Levy Restaurants for concessions. When Marlins Park was constructed, sufficient space was allocated to permit food preparation right at the concession stands, and some have rotating menus. Big local favorites are the three stands at the Taste of Miami food court, featuring ceviche, Cuban sandwiches and Pan Con Lechón, which is shredded pork on fresh Cuban bread.
Milwaukee Brewers – The food in the parking lots here rivals what's inside many other parks. Yes, Brewers fans can tailgate with the best of them, but inside Miller Park are the best sausages, brats and dogs. "If you like encased meats, you're in the right place," observes Lohr. And they're not called the Brewers for nothing, as 45 different brands of beer are available. Of course there are fried cheese curds, because after all, this is Wisconsin.
New York Mets – One of the great joys of exploring Citi Field is uncovering the assortment of concession stands around the facility. From fresh sushi at Daruma in the right-field corner, to seafood at Catch of the Day in right field to the incredibly popular ShackBurgers at Shake Shack in center field, the variety is as good as at any park in the Majors. Oh, they serve Nathan's Famous Hot Dogs, too.
Oakland Athletics – Prior to 2014, you wouldn't have found O.co Coliseum even close to the Top Ten. However, Ovations Food Service – long a premier vendor in the Minors – took over the concessions this season, and there was immediate improvement. "The concession quality took a quantum leap from last year to this year," said lifelong A's fan Kenya Wheeler of Oakland. Among the additions this season: brick-oven pizza, the Gastro Pub and an insistence that all food be freshly made.
Philadelphia Phillies – Kurt Smith really knows his ballparks, because he scrutinizes every aspect of them for his Ballpark e-Guide series. His favorite park for food? Philly. "No ballpark offers more of the local food icons," Smith points out. "You've got Tony Luke's and Campo's cheesesteaks which are both great, McNally's famous Schmitter sandwich, Chickie's and Pete's crab fries that are ridiculously addictive, Planet Hoagie and the amazing Federal Donuts, which offers delicious fried chicken and donuts in one box." And, of course, there's also a Cheesesteak Dog.
San Diego Padres – If you've never attended a Padres game, then you haven't experienced the high-quality foods at Petco Park. They've long been known for their Friar Franks and tasty fish tacos, but at Anthony's Fish Grotto is a variety of fish and shrimp dishes along with two kinds of clam chowder. You'll also find Tri-Tip BBQ Nachos and Diego Steak & Cheese sandwiches. And check out the beer selection in the historic Western Metal Supply Building, the corner of which forms the left-field foul pole.
San Francisco Giants – They may be near the end of our Top Ten list alphabetically, but they could well be number one overall. The thrilling array of foods here goes way, way beyond their signature Garlic Fries, as AT&T Park now offers economical wine on tap, fried pickle chips, beer brats, grilled ahi tuna sandwiches, hot pastrami and Swiss on naan bread (South Asian flatbread) and arguably the most delicious sandwich in the Majors, Dungeness crab on grilled sourdough.
Seattle Mariners – West Coast parks have very interesting gathering places, and Safeco Field is no exception. The 'Pen is a hot cocktail spot which also includes Edgar's Cantina, where James Beard-nominated Executive Chef Ethan Stowell developed the menu, including the beef-tongue tacos. And, yes, the sushi bar (still featuring the Ichi-roll) is there.
NOTE: The USA Today Sports editors asked me to rank these, so they could print it as a "top ten" list … so I did: 1. Giants; 2. Dodgers; 3. Phillies; 4. Mariners; 5. Mets; 6. Orioles; 7. Brewers; 8. Marlins; 9. Padres; 10. A's.
---
Joe Mock's Tasty Awards
(this is the third section of Sports Weekly's special pull-out on ballpark food)
Best value– For the sixth year in a row, Arizona's Chase Field was assessed to be the least costly place to attend a Major League game, according to the Team Marketing Report. One reason: concession prices, with stands that feature hot dogs, popcorn and sodas for $1.50 each, and $4 for a 14-ounce beer.
Most over-the-top concession items – Figures these are in Texas. This year, the Astros rolled out the Texas Hold 'Em, an overstuffed sandwich with tomato, cheese, slaw and fries on top of barbecued chicken on thick Texas toast. Bigger than that, though, are the food items at the Rangers' Texas Sized 24 stand, including the Choomongous, which has Asian-spiced beef with Sriracha on a 24-inch-long bun, and their famous three-pound Boomstick Dog (below), a two-foot-long beef hot dog covered with chili and nacho cheese, all on a massive potato bun.

The Rangers really started a trend with their Texas-size concessions, like the 24″ long Boomstick Dog. Photo by Delaware North
Best upscale dining – All newer Major League parks feature fancy dining areas, but none are better than the White Sox' FirstMerit Bank Stadium Club, under the guidance of executive chef Sonia Respoto. Spectacular, upscale food and a wonderful view of the field.
Best for early game times – The Red Sox introduced the Breakfast Burger this season. Topping the patty is mozzarella and a fried egg.
Healthiest alternatives – The D-backs feature a vegetarian Italian sausage and a vegan hot dog. At the Orioles' Korean BBQ stand, you'll find several gluten-free and vegetarian items. There are vegetable dogs and burgers and probiotic drinks at the Melissa's Fresh For You stands in Anaheim. Yankee Stadium features the Farmers Market Fresh Fruit Stand. The Nationals have a meatless roasted cauliflower sandwich. And for the fourth time in the last ten seasons, PETA has named the Giants' AT&T Park the Most Vegetarian-Friendly in the Majors.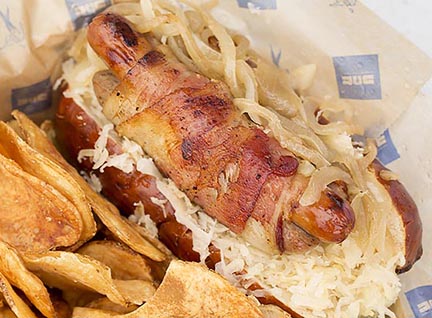 In Milwaukee, they know sausages, brats and dogs, and here's the most fearsome item on the Brewers' concession menu: The Beast. It is a grilled hot dog wedged into a footlong bratwurst that is wrapped in bacon. Photo by Delaware North
Most aptly named – The Brewers serve up The Beast (right), a grilled hot-dog that's wedged inside a bacon-wrapped foot-long bratwurst.
Best pitcher – Just in time for the All Star Game, the Twins introduced self-service beer-dispensing machines at Target Field. Fans use a pre-loaded card to obtain the exact number of ounces (up to 48) they desire from the machine. Humans are on hand to verify age and that the fans haven't been over-served.
Most try outs – It's not unusual for teams to taste-test concession items. None went through more try-outs than the burger named for now-retired Rockie Todd Helton. On the 60th taste test, Todd gave it his approval. The delicious combination of meats and spices in the Helton Burger is now available at only one place: Coors Field.
Longest winning streak – Delaware North is the food service vendor at more MLB parks than any other. Their first baseball contract? With the Tigers, in 1930. They've been partners ever since.
Trendiest tea – Bubble tea is all the rage in Taiwan and Singapore, and since trends often travel from (Far East to) West to East, it's starting to show up on America's West Coast. The Giants believe AT&T Park is the first ballpark to offer this unique take on iced tea.
Most food groups – The Twins offer the Bigger, Better, Burger Bloody Mary. It's a Bloody Mary with a bacon cheeseburger slider "garnish."
Frostiest refreshments – At Nationals Park, you can have an ice cream float made with any number of different beers. The Rangers, meanwhile, sell a "frozen beer" with an edible beer-flavored frosty top that keeps the amber liquid underneath cool.
Biggest party – The Rockies spent $10 million rebuilding their right-field upper deck this year. The seats were replaced with The Rooftop, featuring two levels of party spaces, including bars, upscale burgers, cabanas and lots of room for groups to drink and socialize. Has it been popular? "It's been a home run," Rockies' Chief Operating Officer Greg Feasel told USA Today Sports.
Best change up – The Angels, never known for spectacular concessions, changed food-service vendors this season. Legends Hospitality, partially owned by the Yankees, invested millions of dollars refurbishing concession stands and re-doing the menus.
Tops in the Minors – There's great food in the Minors, too. Undoubtedly the most famous concession stand in all of Minor League Baseball is Turkey Mike's BBQ in San Jose. It's known for long lines but exceptional ribs and tri-tip. Perhaps the best overall concession selections are at the two newest parks in the Minors, Charlotte and El Paso. Ovations handles the food at both.
Most effective splitter – Who has the best closer? Probably the White Sox, who feature the Banana Split Sundae Helmet (that weighs in at three pounds) for dessert. Yes, that's a 1-2-3 9th inning!